This Year Has Been Terrible for Benue People – Ortom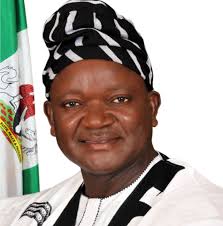 Governor Samuel Ortom of Benue State has stated on Tuesday that the people of Benue State have not experience tranquility since the beginning of this year.
The governor made this known during a cocktail party organized to honour delegates and stakeholders who were in the state for the Middle Belt Rally and Conference currently holding in Makurdi, the state capital.
The governor who said that he would continue to speak out concerning the plight of the people of his stated and ensure that they get justice. he also lamented the continuous killing and displacement of thousands of the people of Benue State by the continue invasion of herdsmen in some communities.
He also applauded operation Whirl Stroke, a military operation to curb the invasion of herdsmen in the state initiated by the Federal government, wishing that the initiative had been done earlier.
The Governor of Taraba State, Architect Darius Ishaku, during his speech, said he and Governor Ortom passed through the eye of a needle to become Governor and were further bonded together by the similar challenges they were facing.
According to The Nation, Governor Ishaku while adding his voice to several calls for the restructuring of Nigeria noted that there is something more than herdsmen behind the killings in the country, adding that if the Federal Government had wanted to solve the problem, it would take less than two months to achieve that.
The governor faulted the constitution of the country of not providing power to the state governors to ensure and take responsibility for the security of their state, thereby making them a toothless bull dogs.
In a remark, National President of the Middle Belt Forum, Mr. Bitrus Poga, urged Benue people to be very proud of Governor Ortom, noting that it takes courage to do what Governor Ortom was doing.
Poga acknowledged the courage of governor Ortom and encouraged him to continue to speak for the less privileged.