Ekiti Election: I Will Come Out Victorious – Eleka, PDP Candidate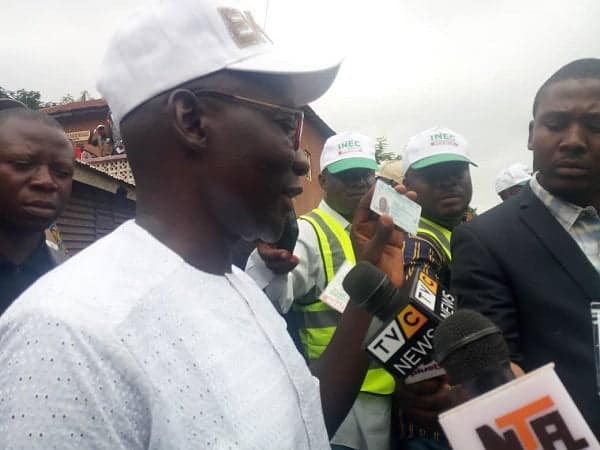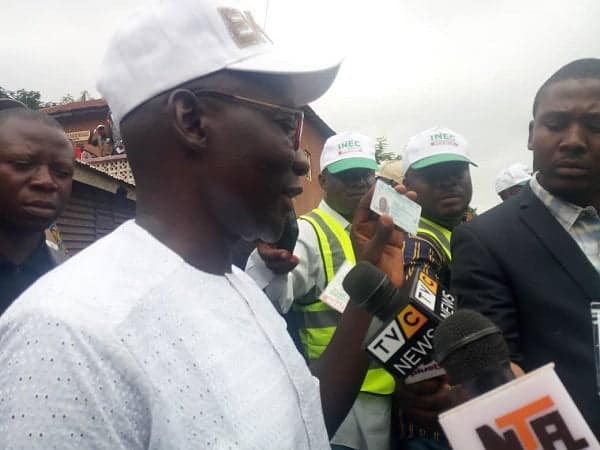 The governorship candidate of the Peoples Democratic Party (PDP) in Ekiti, Prof. Kolapo Olusola Eleka, today, expressed confidence that he would win the election.
He cast his vote in Unit 007, Ward 2, Okekuru, Ikere-Ekiti at 11:10 a.m.
The card reader twice failed to verify his Permanent Voter Card (PVC), but he was eventually allowed to vote after he was manually verified.
Eleka said: "After I spoke with the INEC headquarters, they found a way out of it. So I've been able to cast my vote after being accredited.
"I'm satisfied, and I want to appreciate INEC for being prompt. I also want to encourage them to find a way out in case it happens to any other person. It doesn't have to be to the VIPs only.
"Nevertheless I appreciate their prompt response to this incident."
Asked on his expectations, the PDP candidate added: "I've said it before, Kolapo Olusola is going to be declared governor-elect by the grace of God."
Eleka arrived at his unit at 9:10 a.m. But the card reader failed to verify his PVC. He stood and waited for several minutes without success.
He stepped out and returned a second time, still the card reader failed to verify him.
The PDP flagbearer said he was not given assurances that another card reader would be brought.
He said his wife's PVC was also not verified by the machine.
He said: "I've just gone in to be accredited and then to cast my vote. But unfortunately after trying for several minutes, I was told that the card reader could not recognise my PVC. I don't know why.
"And I'm being told that I am the first person to experience such since they started. I registered in 2014, the same day with my wife. I used it in 2014 to vote."
On whether the experience affected his confidence in the electoral process, he added: "I can't really explain what is happening at the moment.
"I'm going to wait and find out whether it is only my card that will not be recognised by the card reader and that will be quite interesting.
"As the gubernatorial candidate of PDP, I am expected to cast my vote, at least to vote for myself. But that does not mean that I have lost confidence in the process.
"I still believe strongly that by the grace of God I will come out victorious, because I have the people with me."