Ekiti Election: Senate Questions Deployment Of 30,000 Policemen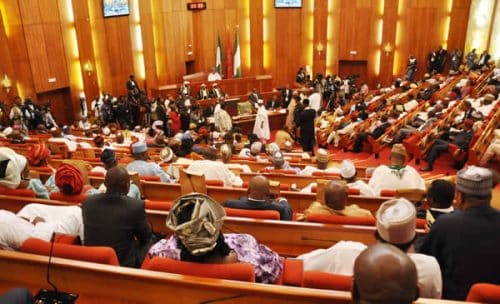 Senate Blames Government For Not Deploying Much Security To Crisis State
Ahead of the Ekiti State governorship election, the Senate has reacted to the deployment of 30,000 policemen to Ekiti for the July 14 election.
Bala Ibn Na'allah, Deputy Majority Leader, during the plenary on Tuesday said that "It is not acceptable for public funds to be used to deploy 30,000 policemen for the Ekiti election while the government could not moblise 10,000 policemen to stop the killings in Plateau and Zamfara states.
The Deputy Majority Leader is sponsoring a bill to repeal the Police Act and establish a Police which will protect the rights and freedom of Nigerians.
The bill outlines the roles and duties of the police hierarchy to avoid role conflict and introduces a responsibility clause to make the police more effective.
The bill seeks to establish a community police forum and boards in all the states to ensure effective and participatory community policing.
The bill provides for the bail of persons arrested without a warrant to the effect that such persons shall not be kept in police detention for more than 24 hours without being charged to court.
The move comes amid several calls by Nigerians asking for the revamping of the nation's security system, including the police to enable the lives of Nigerians are rightfully protected and stop the brutality and extrajudicial killings melted on innocent ones.
Naija News had earlier reported that the senate are trying to amend constitution to allow for the creation of state police, reforming the Nigeria police.
Source: Naija News