President Buhari Did Not Allocate Oil Blocks, Contracts To Anybody, Ibe Kachikwu Says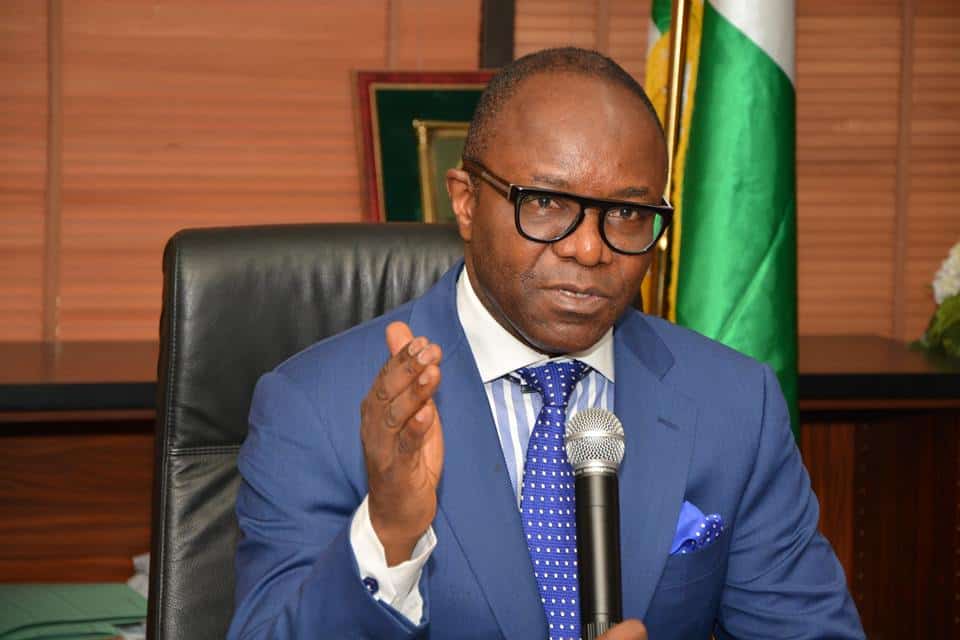 Kachikwu Denies Buhari Awarded Oil Contracts Or Oil Wells
The Minister of State for Petroleum Resources, Dr. Ibe Kachikwu has denied the allegation leveled against President Buhari of allocating oil blocks or contracts to some of his associates.
The Minister who denied the allegation while speaking at the ongoing 2018 edition of the Nigeria Oil and Gas (NOG) Conference and Exhibition in Abuja, said that he has been able to undertake several restricting efforts in the country's oil industry because Buhari has never interfered or tried to influence him negatively.
He equally disclosed that Nigeria's gas reserves had increased by 7 trillion cubic feet (TCF) to 199TCF, up from 192TCF he said it was previously.
"A lot of work has been done in restructuring of NNPC started by me, continued by Dr. Baru. Transparency has also been a key pivot led by His Excellency, the President."One of the reasons why we have done so well is the fact that quite frankly, in my three years of serving as petroleum minister of state, I haven't received a single call from the president urging me to do an allocation to somebody or give a block to somebody, I have not received such a call," said Kachikwu in his ministerial remarks.
He noted that the latest numbers released by the Department of Petroleum Resources (DPR) suggested the country's oil sector was doing well, although he acknowledged a lot of work were still required to get it to deliver the kind of value that would transform Nigeria's entire economy.
According to him, "The oil industry is at a very critical stage in its life cycle, and don't worry about all the nuances you hear about oil going out of stock. The reality even when people point at electric cars, they still represent only two per cent of the instrument of mobility today."When we talk of other forces coming to replace oil, the truth remains that oil demands continues to increase. More oil continues to be found by the day.
"In Nigeria, our own numbers as released by the DPR point to figures in excess of 39 billion barrels of oil which will at the current consumption rate last over 50 years.
"So, there is enough reason to feel that oil will be there for a long time, but the reality is that the performance within the oil sector will differ. It is not how long it lasts, but what value it brings to the populace – the owners of the resource. How we are able to utilise whatever we find."
He said: "In 2017 alone, over 33 new mega projects adding volumes of over 50 million barrels equivalents were sanctioned by the DPR. We are increasing barrels – 36.18 billion barrels of proven reserves of crude oil and condensates as of first quarter of 2018, adding a life index of over 50 years at a depletion rate of 1.9 per cent.
"There are about 80 open acreages currently under review to enhance the prospects in this sector. There are huge Final Investment Decisions (FIDs) in the horizon: Bonga Southwest and Zabazaba which will be first ultra-deep-water project in the region."
The minister noted that Nigeria's upstream rig count increased to about 21 as at the first quarter of 2018, against 17 and below five in 2017 and 2015 respectively.
"Our current production level is roughly 2.15 million barrels per day. The stability in the Niger Delta has helped. Today we have about 46 E&P companies producing from over 180 fields as at the end of 2017. 55.6 per cent (of oil production) comes from JV portfolio, 35 per cent from PSCs, six per cent from sole risks and three per cent from marginal fields.
"By the end of the first quarter of 2018, field developments with total expectant production of 200,000 barrels were approved by the DPR. Gas reserves are estimated at 199TCF up from 192TCF with the capacity to grow to up to 600TCF. We have to absolutely begin to look at how to provide gas for electricity and industrial use," he added.
The minister noted that Nigeria would have to quickly move to secure Africa's regional oil market for itself, as well as drive down her cost of producing oil per barrel.
On this, he said: "Regional markets keep getting more intense and countries who do not set and firm up their regional markets are going to find very soon that even their oil, they cannot sell. With the emergence of the United States to almost independence in terms of energy provision and less reliance on foreign imported oil, the market has dwindled substantially.
"We need to begin to look at how to sustain and firm up regional adherence to our kind of crude. Cost of producing oil in Nigeria continues to be extremely high on a comparative basis and the programmes that will drive the cost of production down must be one driven by business sense."
"Countries are pushing down their cost of production. Our aspiration is $15 per barrel even though we are $23 now," he added.
Source: Naija News