Again, Fayemi Accuses Fayose Of Embezzling Ekiti State Funds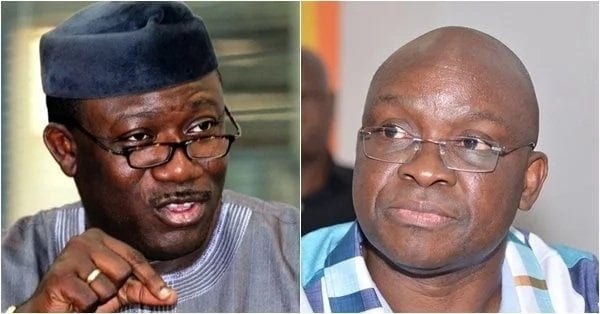 Fayemi's Aide Accuse Fayose's Aide of Concocting Lies To Gain Political Support For Him.
There has been a continuous exchange of blames and allegations between the Ekiti State Governor Ayodele Fayose and the All progressive Congress flag bearer in the state's July governorship election, Kayode Fayemi.
Media aide to the John Kayode Fayemi Campaign Organisation, Wole Olujobi, in a reply to chairman of the Peoples Democratic Party (PDP), in Ekiti State, Gboyega Oguntuase, was concocting lies against Fayemi to get cheap political support.
This is following an allegation that Fayemi could not account for one N16.7 billion that he claimed to have made as Internally Generated Revenue (IGR) during his Governorship trenure.
According to Olujobi, "This is not the first time that Fayose and his men are concocting ridiculous and inconsistent figures to claim that Dr. Kayode Fayemi either put the state in debts or that he stole money.
"Fayose first said Fayemi left N96 billion debts. Later, he reduced the figure to N92 billion and again to N86 billion. Later he called it N76 billion, to the point that you could not even say this is what the figure was until DMO declared that the debt was N18 billion.
"Didn't Fayose say that the state's monthly wage is N2.6 billion, the same figure that Fayemi was paying after Fayose removed 40,000 names from the wage bill he inherited from Fayemi?
Have you forgotten that Fayemi increased IGR from N160 million to N600 million? When Fayose assumed office, he jerked up rates and taxes for Ekiti people, including introduction of fresh taxes. What did he tell Ekiti people about the state IGR later?
He said Ekiti IGR was N250 million down from N600 million after hike in taxes and rates, including fresh taxes that include taxation of school children. Up till now, nobody knows government account into which Ekiti revenues are paid.
Olujobi  added that that Fayose is quoting five different figures for the fly over and a new market.
On some other monies, he said "Didn't Fayose say that Fayemi stole N852 million SUBEB money in Access Bank? Didn't Access Bank come out later to declare that Fayemi never stole their money but that it took back the loan after Fayose refused to meet repayment conditions?
"Didn't Access Bank declared that the N72 million interest on the loan was taken by Fayose without disclosing this in official records?
"All these are opaque in nature because they always see Ekiti people as fools as Fayose routinely derides them.
"Pity that fate puts Fayose's burden on the neck of my friend, Gboyega Oguntuase, to join the chorus of liars who, after putting Ekiti State in debts in excess of N56 billion, are now looking for a scapegoat in the election period.
"One good thing is that Ekiti people have seen through Fayose's wall of deception and there is no lie and blackmail that can change the minds of Ekiti people from kicking out Fayose and his clique from their lives so that they can start living like other decent Nigerians who are lucky not to be doomed to Fayose voodoo economic management where figures appear, disappear and re-appear to confound decent Ekiti people that are living under the yoke of ruthless businessmen that have hit jackpot in Ekiti State," he said.