Abuse Of Office: Memo To Vice President Yemi Osinbajo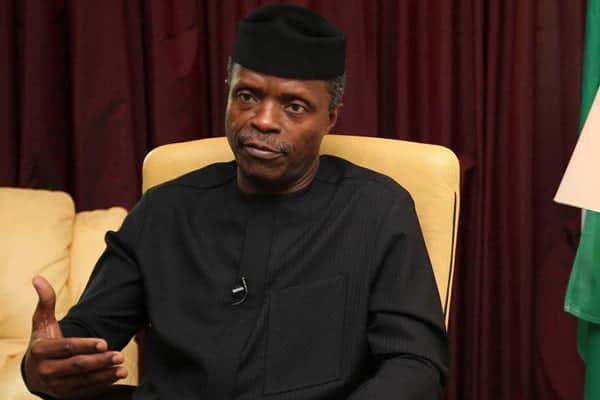 Osinbajo Urged To Investigate Abuse Of Office By Public Servants
The attention of Vice President Yemi Osinbajo has been drawn to alleged cases of intimidation, abuse of office, corruption and gross misconduct of public offices under his watch.
The complaint which is contained in a memo sent to Nigeria's number two citizen by Yushau A. Shuaib, a copy of which was made available to Naija News, urged Osinbajo to use his good office, his position as a clergy man and a legal luminary to address the injustices suffered by the identified civil servants.
Highlighted specifically were several cases of corruption and gross abuse of office leveled against NEMA boss, Engr. Mustapha Maihaja as well as the alleged sacking of a female staff of the Presidential amnesty office for critiziing the Vice President on social media.
The memo reads in full:
"Your Excellency, Professor Yemi Osinbajo,"
"You have, no doubt, a reputation to protect against agencies under your supervisions that are engaged in unethical practices and gross misconduct including corruption, nepotism and victimizations of civil servants while dropping your name in their misdemeanour."
"As a respected Pastor of the Redeemed Christian Church of God (RCCG), a distinguished professor in law, you are admired for your humility, simplicity, charisma and accomplishments in life."
I write this memo to draw your attention as the Chairman Governing Board of the Niger Delta Power Holding Company Limited (NDPHC) and that Governing Council of the National Emergency Management Agency (NEMA), by virtue of your office, as the Vice President of Federal Republic of Nigeria."
"Let me first draw your attention to a recent worrisome development when a Niger Delta lady, Bolouere Opukiri was sacked from Presidential Amnesty Office for allegedly criticizing you. It was claimed that she had described you 'a novice' in the social media for travelling out of the country at a time President Muhammadu Buhari was receiving medical treatment in London and tension was flaring between the executive and the legislature when you were Acting President. The dismissal of South-South lady was triggered after a subtle query was issued by one of your aides to her boss."
"Your Excellency, as you are aware, a widow from North-Eastern Nigeria and a chartered Accountant of repute, Mrs. Maryam Danna Mohammed was also wrongfully sacked as the General Manager Audit of NDPHC after she exposed some irregularities in the agency."
"Described as an anti-corruption crusader and whistle-blower, Danna's case was reviewed by the Attorney General of Federation, Abubakar Malami who recommended her reinstatement. The Senate of the Federal Republic of Nigeria also passed a resolution for her immediate reinstatement after a public hearing  Surprisingly, neither the legal advice from the number one Law Officer of the Federation, nor the resolution of the Federal Legislators were honored or obeyed as your Office that supervises NDPHC is yet to reinstate the innocent Northern woman."
"Your Excellency sir, more disturbing are the scandalous activities taking place in NEMA, another agency under your supervision. The House of Representatives' Committee on Disaster Management spent months at public hearing in unravelling some sickening corrupt practices under the current Director General of NEMA, Engr. Mustapha Maihaja."
"Some of the allegations against the NEMA boss included but not limited to the following: Payment of N400 million Demurrage for N414mn Chinese Donated Rice; diversion of over N15 billion fund approved for food intervention in North East, Flood Intervention in 16 States and relief for Libya returnees."
"In less than a year of his tenure Maihaja has grounded major operational tools of NEMA including Mobile Intensive Care Unit (MICU), Emergency Response Vehicles, Air Ambulance and the Helicopters."
"It may interest Your Excellency, to note that when Goodluck Jonathan and Namadi Sambo were Vice Presidents and Chairmen of NEMA's Councils at different times, their names were never mischievously dropped for ulterior motives because the agency's bosses then AVM Mohammed Audu-Bida (Rtd) and Mohammed Sani-Sidi took responsibilities for daily activities and media enquiries. Those periods, NEMA organised capacity building programmes for emergency workers; trained volunteers, attended swiftly to victims of disasters, provided timely relief materials to distressed people; undertook regular assessments of disaster scenes, acquired and utilized modern tools for emergency response including Mobile ambulances and Multipurpose Emergence Response Vans among others. The morale and enthusiasm of staff were never dampened but high with motivational incentives."
"Unfortunately, in less than one year of the appointment of the current NEMA's boss, Engr. Mustapha Maihaja none of the recent past glories is functioning optimally. Your Excellency sir, your swift intervention last year curtailed the indefinite strike when you compelled Maihaja to negotiate with NEMA workers at a meeting held with officials of the Ministry of Labour. Most of the agreements reached at the meeting are yet to be implemented. For the first time in the history of NEMA, the staffs of the emergency agency are currently on a nationwide strike as you read this."
"Like the case of Maryam Danna of NDPHC, when some Account Officers raised eyebrow on the unethical practices in NEMA, rather than become sober and change his attitudes, Maihaja recommended and suspended top management officers of the agency and redeployed Account Staffs to other Departments and Zones. In fact, it is a case of a hunter being hunted as the same NEMA boss relentlessly sent names of directors and other officers of NEMA to Economic and Financial Crimes Commission (EFCC) for investigation and prosecution on baseless allegations."
"Concerned about the arbitrary and illegal suspension of innocent and competent NEMA officers who have spent over 10 years in the service, the House Committee on Emergency Management of the National Assembly passed a resolution for their immediate reinstatement. Your Excellency, Mr Vice President, the suspended NEMA directors and officers are yet to be recalled and reinstated."
"Your Excellency Sir, the painful irony in these sad developments, especially for some of us that could read between the line is that your name and office is constantly being mentioned in this unfathomable arbitrariness and dirty politics. The unfair dismissal of Bolouere Opukiri Boro from Presidential Amnesty office, the wrongful termination of the appointment of Mrs Maryam Danna from NDPHC and the unlawful suspension of NEMA directors from office among others were all linked to your exalted office which can rubbish your reputation as a legal luminary who knows the law of due process."
"Your Excellency, may I strongly suggest to you, as a man of God and lawyer, to assign an independent panel to review and scrutinize some of those cases to realise terrible mistakes made in the name of your office. If these mistakes are not corrected, I am sorry to say that your name may go out in history as the Vice President who chairs boards of agencies that victimise and destroy the career of innocent and competent public officers through illegal and arbitrary means by his political appointees in deliberate effort to cover up their mess."