Offa Bank Robbery: Police Accuse Saraki Of Buying Guns For Robbers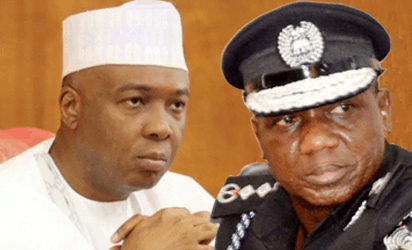 Police Source Explains Why Saraki Was Invited
The Police say Dr. Bukola Saraki was accompanied on his sympathy visit to the palace of the Olofa of Offa, Oba Muftau Gbadamosi Esuwoye, by four gang members involved in the Offa bank robbery.
The police source which was quoted by Vanguard disclosed that contrary to widely publicized general opinion, Dr. Saraki was only invited to explain why he allegedly purchased weapons for the gang suspected of carrying out the bank robbery in which many innocent lives were lost.
He said the Senate President is not been accused of any direct role in the robbery attack.
According to the source, "it is an offence to purchase prohibited weapons for criminals in whatever guise, be it thuggery or whatever you call it."
"For your information, 48 hours after the Offa armed robbery operation and killings, the four gang leaders of the group that perpetrated the devilish act, accompanied the delegation of the Senate President to visit the Olofa of Offa to console with him over the killings."
"So from these and other discoveries, there is really the need for the Senate President to explain these links. Nobody is saying otherwise.''
Meanwhile Naija News recalls that there have been protest in Ilorin and Offa stating that Saraki is not a criminal and that the Inspector General of Police, Ibrahim Idris, should not politicize the issue.
Download NAIJA NEWS app: