Fayose Slams FG Over Call For Suspension Of Anti-Grazing Law, Says "No Going Back On Implementation In Ekiti"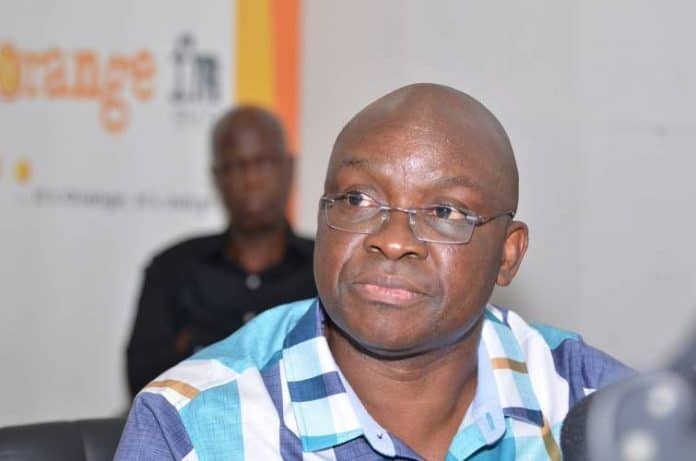 Ekiti State Governor, Mr. Ayodele Fayose has described call by the federal government through the Minister of Defense, Mansur Dan-Ali for the suspension of the implementation of the anti-grazing law by States as an affront on federalism and everything that it stands for, saying; "It is amazing that at the level of the presidency, they still see the States as appendages of the federal government.
Governor Fayose, who said it was the rights of the House of Assembly of the federating units in the country to make laws for the smooth running of their States, declared that there was no going back on the implementation of the anti-grazing law in Ekiti State, it is the Presidency and its cabal that should stop looking the other way while herdsmen go about killing Nigerians."
Special Assistant to the governor on Public Communications and New Media, Lere Olayinka, quoted the governor as saying in a statement issued on Wednesday that
"The President Muhammadu Buhari led federal government is acting as if there is more to its opposition to the ban on open grazing by some States than it is telling Nigerians."
He lamented that it was unfortunate that the federal government was acting as if it values cows more than Nigerians, describing the position of the Minister of Defense as an embarrassment to the country.
The governor said "those who are genuinely interested in peace and unity of Nigeria know that anti-grazing law is not responsible for killings across the country by herdsmen because herdsmen have killed more people even in States where the law is not in existence.
Rather, it is the federal government's refusal to act decisively on pure security issues that has emboldened the killer herdsmen to even go about attacking military formations and police stations.
"It is also interesting that this same federal government told Nigerians last year that most of the herdsmen carrying out attacks across Nigeria are foreigners. Is the Minister of Defense telling States to suspend their laws in the interest of foreigners that are killing Nigerians?"
Governor Fayose expressed concern over the federal government's opposition to the anti-grazing law saying; "In January, this same Minister of Defense blamed the passage of anti-open grazing law in some states as the cause of the recent killings by herdsmen in some of the states.
Yesterday again after a security meeting with President Buhari, the Defense Minister was still singing the same song. Is there something to this old system of nomadic cattle rearing that they are not telling Nigerians?
"Methinks the federal government should be concerned about how to take the herdsmen out of the bush and give them decent life by embracing cattle ranching. How can anyone be pleased subjecting his own people to a life of following cows through the bush from Yobe to Lagos?
"Why is President Buhari not rearing his cows through open grazing? At least, we have seen pictures of the President's cows where they were kept on a fenced-land in Daura, why can't other cattle farmers be encouraged to ranch their cows just like the President? "Here in Ekiti, the law restricting open grazing of animals stays. It is the federal government that should stop looking the other way while herdsmen go about killing Nigerians."