Senate Sets Up 9-Man Committee To Meet Buhari Over Alleged Plans By IG To Implicate Saraki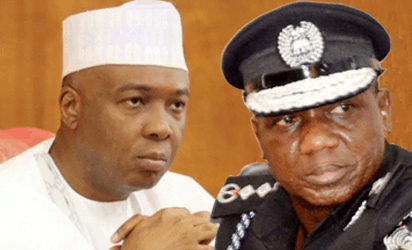 Saraki To Meet President Buhari Over Plans By Ibrahim Idris To Implicate Him
Following the alarm raised by the Senate president, Bukola Saraki on alledged plan of the Police Chief, Ibrahim Idris to implicate him in some criminal activities, the Senate has set up a nine-member committee to meet with President Muhammadu Buhari.
The lawmakers arrived at this decision after a lengthy deliberation, as many of them took turns to speak on the issue.
The committee is to be chaired by the Senate President, Bukola Saraki.
Naija News had earlier reported a full statement by the President of the Senate today, in which he said security reports made available to him revealed thatIGP Ibrahim Idris, had transferred some criminal suspects undergoing interrogation in Kwara to Abuja to make statements to implicate him.
Commenting on the issue, Gbenga Ashafa (Lagos-APC) and Philip Aduda (FCT-PDP) suggested that a joint committee of the Senate and House of Representatives be constituted because Mr Saraki is the chairman of the National Assembly.
The Chief Whip, Olusola Adeyeye, differed. He proposed that the Senate should set up a committee of seven with a chairman and one person from each geo-political zone and brief the House of Representatives which could choose to do so or not.
Sam Anyanwu (Imo-PDP) said the situation is a manifestation of a warning he gave his colleagues some months ago. He added that there is a plot to bring down senators who are critical of government.
"If this matter has to do with the President of the Senate, then all of us are in trouble. I remember I said this that from February, all for us should be prepared, one after the other, it has come to that point.
"I'm looking at a situation where we don't look at geo-political zones, we look for crack people who can do a forensic investigation and bring it to the public domain so that Nigerians can understand the persecution we are going through now.
"As it stands, I can assure you, some of us have been earmarked just because we speak out. But as far as I'm concerned, it's only one bullet and one life."
Kabiru Marafa (Zamfara-APC) said the committee should be set up to meet with the President rather than investigate and turn out a report which may not be acted upon.
He said, "Instead of investigating, I want to suggest the committee be made of well-experienced people should sit down with the president and discuss the issue.
"These things are capable of turning our democracy upside down. We are going to conduct investigation, after the investigation where are you carrying the resolution or the report to? It will further pit the National Assembly against the Executive. Let us raise this committee and let them sit with Mr President."
Isa Misau (Bauchi-APC) wants his colleagues to be prepared as more of such 'victimisation,' targeted at 2019 elections, will still occur.
"The police is just being used as face for this, there are other security organisations behind what is happening. And all this things is about 2019 election," he said.
Next was Senate Leader, Ahmed Lawan, who opposed Mr Alimikhena's prayer.
"Today would have been the best day for us to walk in and pass the 2018 budget but that's not to be. I will subscribe to the idea that we don't continue to beat a dead horse to constitute an ad-hoc committee to invite the police to explain or the IG. The idea of meeting Mr President to me is the best.
"Let me say that some people could be taking advantage at certain points to do certain things that Mr President would have no idea. Therefore, it's an opportunity for our delegation to meet Mr President to explain everything."
Other members of the committee are Senate Leader, Ahmad Lawan; Chief Whip, Olusola Adeyeye; Minority Leader, Godswill Akpabio; Danjuma Goje; Sam Anyanwu; Aliyu Wammako; Fatima Raji-Rasaki; and Oluremi Tinubu.
Meanwhile, the lawmakers quashed a call by Mr Marafa that the delegation should be led by another person because of Mr Saraki's involvement.
Mr Lawan justified his involvement on the ground that some other matters may be discussed in the meeting with Mr President.
"I supported the inclusion of the Senate President for one fact. In my submission earlier, I said this is one issue that will take us to Mr President but remember, this is symptomatic of what is happening. So, I believe that certain other issues may come up and you need the Senate President to be there."