Senates Probes Xenophobic Attacks On Nigerian Judges In Gambia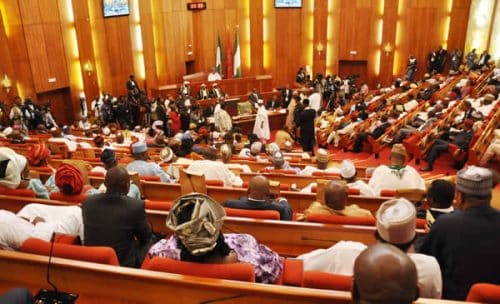 Senate Probes Xenophobic Attacks On Judicial Officers In Gambia
The Senate has promised to probe allegations of ill-treatment and xenophobic attacks on Nigerian Judges and other legal personnel serving in the Gambia.
Naija News learnt that the Joint Committees on Judiciary, Human Rights, Legal matters and Foreign Affairs have been mandated to carry out investigations on the matter and submit a report to lawmakers for consideration.
A federal lawmaker representing Niger East Senatorial District, Senator David Umar who drew the attention of the Senate to allegations of arbitrary removal, said the Nigerian Judges and judicial officers were dismissed from office without reasonable cause and without recourse to the bilateral agreement with the Gambia Judicial Service Commission.
Senate Deputy President, Ike Ekweremadu, also raised concerns over the attacks in the state.
He said:
"Matters such as this should be of concern as we owe our citizens the duty &r responsibility to protect them. "This is a matter that concerns two very friendly countries and it is important that we know the true facts and make important recommendations".
The Senate, therefore, urged the Federal Government to urgently address all cases of xenophobic treatment allegedly suffered by Nigerian Nationals in the Gambia, South Africa and any other African country where similar agreement exists.