Codeine: NDLEA Men Arrest 17 Suspected Smugglers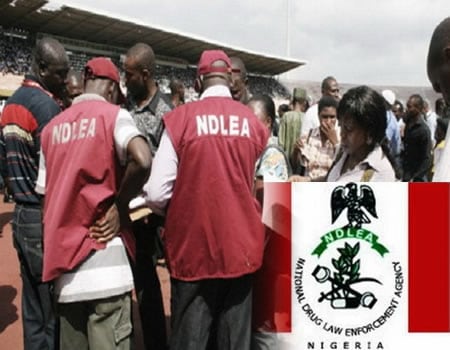 NDLEA Men Arrests 17 Suspected Smugglers  Of Codeine And Other Drugs In  Ilorin Kwara State.
A total of 17 suspects have been arrested in different parts of Kwara state while trying to transport the drug to other destinations for sale.
The National Drug Law Enforcement Agency (NDLEA), Kwara State Commander , Mr Onah Ogilegwu revealed this in a press briefing today.
Meanwhile Naija News recalls that The Federal Government had banned companies from producing codeine.
Mr Ogilegwu, said his men arrested 13 suspects with assorted drugs in different locations across the state.
He said, "13 suspects were arrested at various locations by the Air Force authority in Ilorin and transferred to the command with assorted hard drugs,"
Ogilegwu stated that the Command on Saturday nabbed another two suspects with 12 cartons of codeine containing 600 bottles of the product.
"The two suspects were in the taxi trying to travel down north with the drug but my men intercepted their car and while checking they discovered 12 cartons of codeine.
"They confessed that they are travelling to Kaduna with the drugs to deliver them to a man.
"Surveillance was placed in the area following a tip off. Men of the command swung into action and the two suspects arrested are presently undergoing investigation," he explained.
Ogilegwu charged all drug sellers and producers to abide by directives to submit banned substances in order to receive commendation from the command," adding that failure to do so will lead to arrest of culprits.
He added that other assorted drugs like Tramadol should be placed on poison box by the pharmacists and should be sold strictly on medical doctor's recommendation.
"Any other vendor found selling drugs aside licensed pharmacists will face the wrath of the law when arrested," he warned.
He also urged the Federal Government to fast track a bill to ban production, sales and distribution of the drugs