Video Of Senator Dino Melaye Sitting On The Ground Like A Common Criminal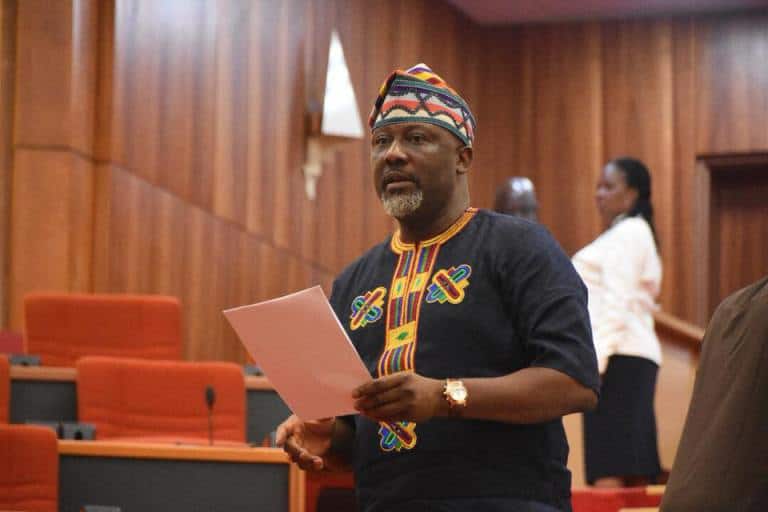 Senator Dino Melaye Mocked Like A Criminal
Senator Dino Melaye who was initially arrested at the Abuja international airport, by officers of the immigration service on his way to Morocco, then subsequently released few hours later before been picked up by operatives of the Nigeria Police Force who kept vigil at the Abuja home of the lawmaker, is currently facing an on-going battle with the police.
The Senator, twitted about handing himself over to the Nigeria Police Force, and then Melaye was said to have been moved to The Special Anti-Robbery Squad (SARS) Headquarters, Guzape, Abuja.
The lawmaker, according to reliable sources, as earlier reported by Naija News, was subsequently detained in a SARS detention facility located opposite the old CBN junction along the Area 1 Expressway, known for imprisoning hardened criminals arrested for theft, murder, cultism and other criminal acts.
Dino Melaye, who was arrested at the early hours of yesterday by operatives of the Nigeria Police drawn from its Special Anti-Robbery Squad, (SARS), was moved to Lokoja, Kogi State capital.
The Senator while been moved from Abuja to Lokoja jumped out of a police moving vehicle conveying him to Kogi state and ran into a thick bush, which led to the police operatives jumping out of the vehicle and giving him a hot chase.
The Senator was hospitalized after he was rushed to the hospital to treat the injuries he sustained during his escape and later re-arrested.
Watch video below of Dino Melaye on the streets of Abuja.