AGF Says FG Will Introduce New Terrorism Law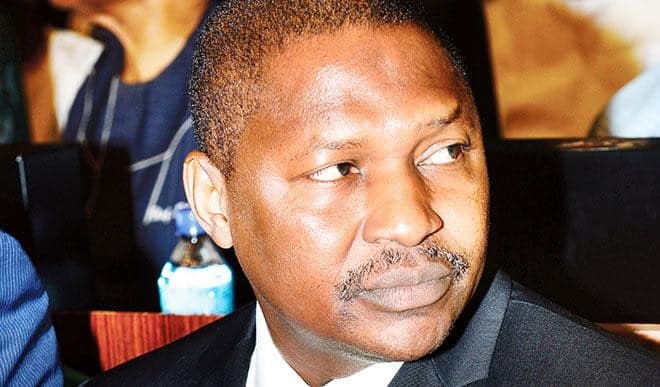 FG To Replace Existing Laws On Terrorism – AGF
The Attorney General of the Federation (AGF) and Minister for Justice, Abubakar Malami (SAN) has announced plans by the federal government to introduce a new legal provision against terrorism in the country.
The AGF said the new law: Terrorism Prohibition and Prevention Bill, will replace the current Terrorism Prevention Act, 2011 (amended in 2013).
Speaking at the opening of the Regional Workshop on 'Prison Intelligence in a Counterterrorism Context' in Abuja yesterday, Malami said when passed by the National Assembly, the new law would enhance coordination amongst relevant law enforcement, intelligence, prisons and security agencies in the country.
Malami, who was represented by the Director of Public Prosecutions (DPP), Mohammed Etsu, said the law has also expanded the definition of terrorism financing and the sanctions applicable to terrorists and those who fund them.
While commending the International Institute of Justice and Rule of Law (IIJ) of Malta and the governments of USA, Germany, UK, Switzerland, EU and other development partners for their cooperation, Malami said the ministry has initiated reforms for decongestion in prisons, and the de-radicalisation and rehabilitation of terrorism suspects through the Office of the National Security Adviser.
Naija News Learnt that the minister also said that the  cross-border cooperation remained the most effective tool to efficiently fight terrorism as it would better equip law enforcement and prison officers in Africa to fight the menace.
"As you are all aware, terrorism has unfortunately been with us in various forms across the continent. The scale of terrorists' incursion is constantly metamorphosing at an alarming and despicable rate.
"No country can claim to be immune; it is our collective responsibility to put our skills to best use in combating this menace as nothing justifies terrorism, and we must all work jointly to eradicate it from our society," he said.
According to him, it is now globally acknowledged that terrorism has become an unprecedented threat to international peace, security and development, and this is why the ministry is partnering the International Institute for Justice and Rule of Law.
He expressed optimism that the workshop would enable participants from different African countries to share experiences, develop a systematic and sustainable framework in the management of prison intelligence.
He further noted that as part of Nigeria's efforts to fight terrorism, the ministry had set up a unit in the Department of Public Prosecution known as the 'Complex Case Group'. He  also said that the unit had specialist prosecutors who recently concluded over 1,000 counter-terrorism cases and secured over 300 convictions.
Source: Naija News