Uche Secondus Gives Lai Mohammed 48-hour Ultimatum To Retract Claim On Loot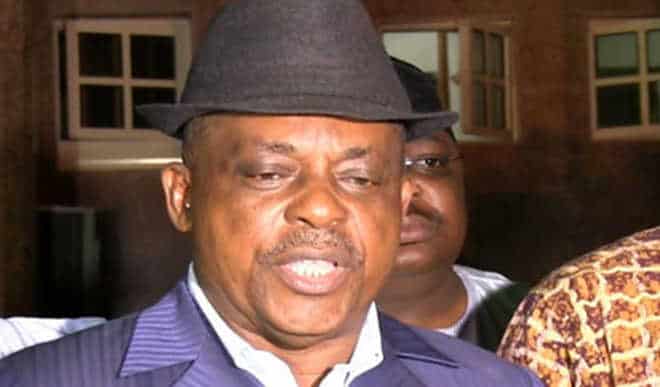 Prince Uche Secondus, National Chairman of the Peoples Democratic Party (PDP), has given the Minister of Information and Culture, Lai Mohammed, 48 hours to withdraw his statement against the party leader or face litigation.
Naija News had ealier reported the Information Minister, Lai Mohammed, during a conference in Lagos outlined the names of  the individuals include officials in the past government who he claimed were looters of the government treasury.
Emeka Etiaba , counsel to Secondus released the letter with reference no. EESE&C/1/31/03/18 dated March 31, 2018.
The letter was titled "Re:Publication of false and defamatory statement against Prince Uche Secondus".
He demanded for retraction, apology and payment of N1.5 billion as damages.
The lawyer said that the said publication had damaged the image of Prince Secondus as he has been "humiliated, castigated and vilified by many as a result of the falsehood published by the Minister".
The letter stated that if Mohammed failed to meet their demand after 48 hours, they shall "within 72 hours from today, proceed to a court of competent jurisdiction to ventilate our clients right under the law.
"We shall further seek the protection of the court against you".
Meanwhile, the Peoples Democratic Party has said the 'looters' list released by the Federal Government is hollow and laughable.
The party described the list as an extension of the Federal Government's media trial and asked the federal Government to come up with a list of names of looters which they are seriously convicted about.
Source: Naija News