No Specific Date For 2018 Budget Passage – Senate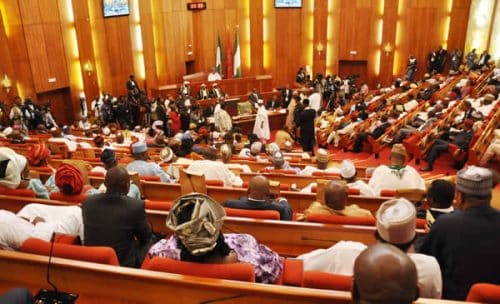 The senate on Tuesday said it was still working on fine tuning the details of the 2018 budget proposal, hence couldn't give a specific date for its passage.
Senate spokesman, Sa'abi Abdullahi, disclosed this while addressing reporters in Abuja.
According to him, "The budget process is on and I can't tell you this is the specific date it is going to end.
"We are working very hard on it and we want to assure Nigerians that at the end of the day, we will have a budget that will serve the purpose of Nigerians."
He said the members of the red chamber decided to lift embargo on confirmation of presidential nominees in the overall interest of the people.
"There was an existing impasse between the executive and the legislature with respect to confirmation hearing of appointees of the executive."
"We had a resolution that since the executive is claiming we don't have the powers to make those confirmations we are not going to consider the nominees they are forwarding to us. This happened since last year.
"Not that they have any iron to grind with anybody".
"But because we believe we must defend the sanctity of democracy and ensure the institutions of democracy, for which the senate is the apex, must be respected and we believe in doing so, it is in the overall interest of the people."
"We will also consider the nomination of the two deputy governors of Central Bank (CBN) who are also members of the MPC so that the Nigerian economy will receive the necessary technical input to ensure that we sustain the growth of our economy," he said.
"And to also ensure we support the executive in walking the economy out of recession. We are definitely going to do the confirmation to enable those confirmed to attend the next MPC meeting," he said.