SGF Mustapha Stops Distribution of Buhari Campaign Caps During FEC Meeting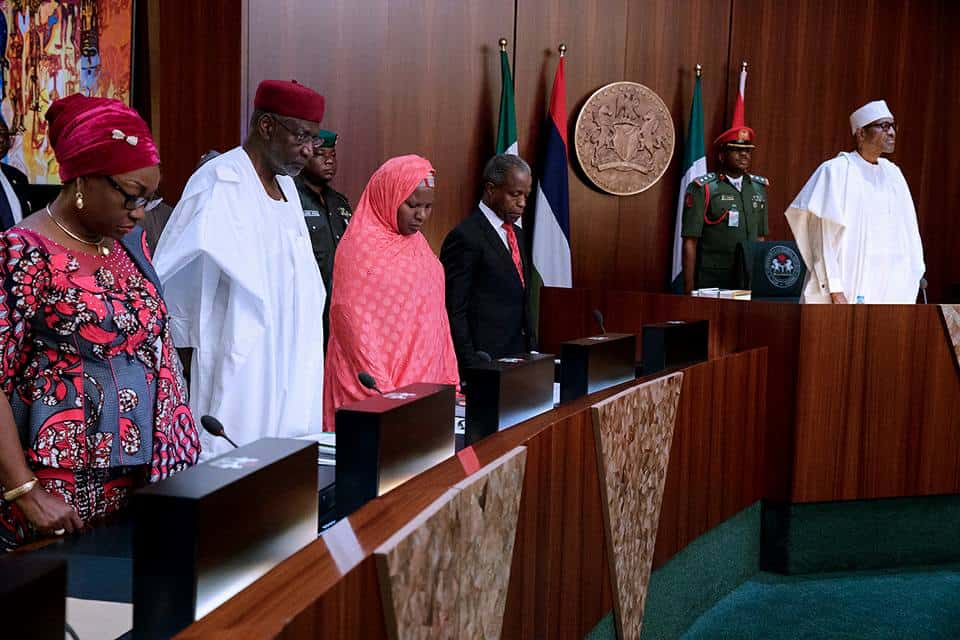 The Secretary to the Government of the Federation,
Boss Gida Mustapha
, prevented the Minister of Communications, Adebayo Shittu, from sharing
President Muhammadu Buhari
's re-election campaign fez caps at the Federal Executive Council meeting.
During the FEC meeting held on Wednesday, Shittu, put on the cap with the inscription 'Continuity '19: Muhammadu Buhari/Osinbajo,' while bringing a Ghana-Must-Go bag filled the same caps for distribution to other cabinet members.
The fez caps were reportedly souvenirs he made for the launch of the Buhari/Osinbajo Campaign Organisation in Ibadan, Oyo State, two Saturdays.
However, sources at the FEC meeting disclosed that Mustapha stopped the sharing of the caps, just before President Buhari walked into the council chambers.
He had handed over the bag to the council's secretariat staff members for onward distribution to his colleagues.
The workers were charged with distributing council documents and other items to members.
Meanwhile, Adebayo is also the South West Campaign Coordinator and an aspiring contestant for the governorship position in Oyo State, under the flagship of the All Progressives Congress (APC).
Shittu inaugurated the South West zonal office for Buhari's re-election in Ibadan, without the inputof his state governor, Senator Abiola Ajimobi.
Osinbajo Campaign Organisation in Ibadan, Oyo State.