Prosecutors are desperate to convict me – Sambo Dasuki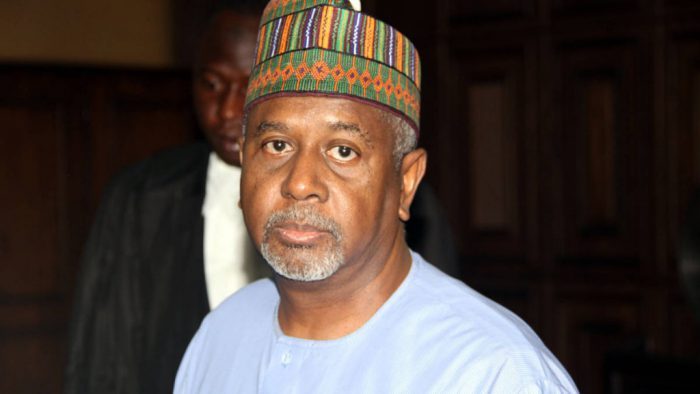 Sambo Dasuki, former National Security Adviser, says all his transactions with Olisa Metuh, former National Publicity Secretary of the Peoples Democratic Party (PDP), followed due process.
Metuh is facing corruption charges at the Federal High Court, Abuja, having been accused of receiving and misappropriating N400 million from the office of the NSA in 2015.
When Dasuki first appeared in court to testify on Wednesday, he told the court that he could not remember the transaction and needed more time to go through his documents.
But the request was turned down by Okon Abang, the presiding judge, who insisted that Dasuki must enter the witness box and testify.
Following the ruling, Dasuki was questioned by both defence and prosecution counsel.
He maintained that all his dealings with Metu followed due process, adding that he had never been charged no convicted over such transactions.
When presented with an electronic payment voucher indicating the transfer of N400 million in foreign denomination to Mr. Metuh's company, Dextra Investment Limited, Dasuki said he could not authenticate the document without first going through his own records.
"What services did the company, Destra Investments Limited, the second defendant render to entitle the company, the payment of N400m," Dasuki was asked by the prosecution counsel.
"If you want an answer, I still have to refer to my records," he replied.
"These are simply documents from a prosecution desperate to get a conviction, that is why I insist on referring to my own records."
After the cross-examination, Justice Abang permitted Dasuki to go.
The trial was adjourned to December 4, 5 and 6 to enable court officials discuss with the defence counsel on the service of a subpoena on former President Goodluck Jonathan.
The court had granted Metuh's request to issue a subpoena on Jonathan t come and testify in the trial.
Metuh says that the N400 million he was accused of misappropriating, was disbursed to him on Jonathan orders.
However, court officials have not been able to serve the subpoena on Jonathan as he is said to be out of the country.
Download NAIJA NEWS app: