NUPENG, oil workers, others begin strike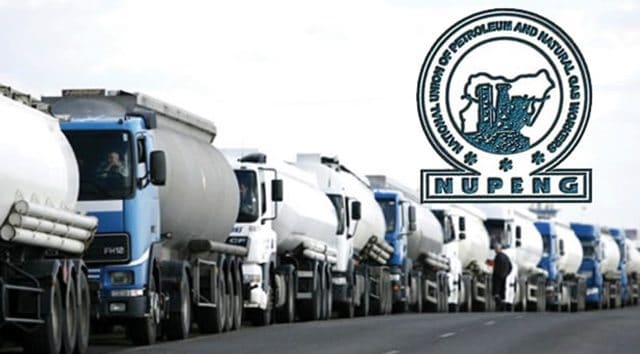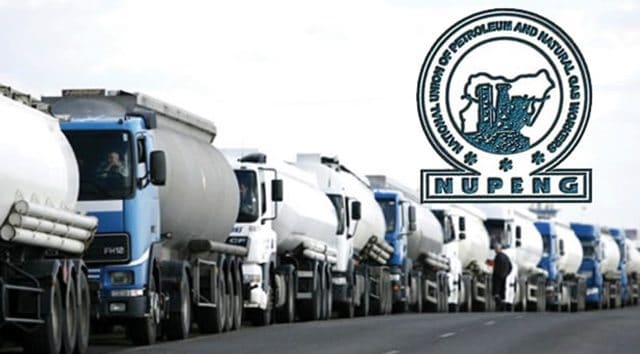 The Nigeria Union of Petroleum and Natural Gas Workers, NUPENG, has declared that loading of products, including aviation fuel, would stop from yesterday as affiliates of United Labour Congress of Nigeria, ULC, begin an indefinite strike.
According to Vanguard report, electricity workers, on the platform of National Union of Electricity Employees, NUEE, National Association of Aircraft Pilots and Engineers, NAAPE, and National Union of Railway Workers, have also asked members to join the strike.
However, leaders of the National Union of Banks, Insurance and Financial Employees, NUBIFIE, said members may not join the strike today because the union just ended its delegates conference weekend, warning that members would  join the strike should it persist.
But the Nigerian Labour Congress, NLC, and Trade Union Congress, TUC, insisted yesterday that the ULC was fake, since it was not recognized by government, and urged Nigerians to ignore the group. Similarly, the Federal Ministry of Labour also held on to its position that the ULC was not recognized by the Federal Government.  The federal government, through the Senior Special Assistant to the President on Media and Publicity, Garba Shehu, said last night that the Presidency stands by the Labour Minister's position that the ULC is not recognised by the Federal Government.
However, leaders of Steel and Engineering Workers of Nigeria, SEWUN, Iron and Steel Senior Staff Association of Nigeria, ISSSAN, National Union of Lottery Agents and Employees,Nigerian Union of Mine Workers, Association of Nigerian Aviation Professionals, Private Telecommunications and Communications Senior Staff Association of Nigeria, Metal Product Senior Staff Association of Nigeria, Fitters Senior Staff Association of Nigeria, National Union of Shop and Distributive Employees and Academic Staff Union of Research Institute, among others, said their members would fully comply with the strike directive by the national leadership of ULC.
Speaking to Vanguard yesterday, Lagos State Chairman of ULC and Lagos zonal chairman of NUPENG, Tokunbo Korodo, said though there was skeletal loading of products weekend, there will be total shut down of all loading activities by members today.
"What that means is that we are not going to load products across the country, including aviation fuel, from today until there is counter directive from the national leaders of our umbrella body, the ULC,'' he said.
Similarly, General Secretary of NAAPE, Ocheme Aba, said members will fully comply with the strike, noting that that the strike would be handled strategically. "We are not going to confront anybody, but I can assure you that you will definitely feel the impact of the action," he said. In the same vein, Delta State Council of ULC has directed all affiliates in the state to immediately commence total withdrawal of services from today, in compliance with the resolutions of national leadership of the labour centre.
Chairman of the council, Comrade Williams Akporeha, said : "We are not deterred but only very worried to hear this sort of comment from respected government officials who allowed undemocratic forces to corrupt and cripple the NLC. "On behalf of the national leadership of congress, all our members in Delta State are hereby directed to proceed on an indefinite industrial action with immediate effect without fear of intimidation and harassment. "We shall continue to monitor compliance and effectiveness until the Federal Government meets our demands already sent to the appropriate agents of government."
Meanwhile, dismissing comments attributed to the Minister of Labour and Employment, Chris Ngige, that ULC has not been registered and is therefore an illegal body, President of ULC, Joe Ajaero, said:  "ULC does not have any intention of joining issues seriously with the Minister or any other persons but the only thing we can tell them is that they should wait till when the strike commences, for action speaks louder than words.
"He (the minister) has unfortunately not realised that we have to save him and his Ministry which he has allowed to be rubbished by interest groups averse to honest engagements in the sector and the freedom of Nigerian workers by this action.
"We are sure that the minister must have been misquoted.We are not surprised. Let it be placed on record that the laws of our land – the Constitution and the Trade Union Act are on our side and fortunately, Ngige holds no judicial powers which he pretends to wield and cannot pontificate on the legality of ULC.
Read also: Operation Pyton Dance: EU Condemn Buhari, Millitary Over Gross Human Rights Abuse Of IPOB
"He cannot be the person saying this because he knows what the law says on this. Nigerians should remember that TUC operated without certificate for 27 years and that was within the ambit of the law and Ngige knows this, unless he is saying this tongue-in-cheek. We, therefore, pronounce his comments as not only unfortunate but also illegal and should be ignored by all Nigerians.
"This strike on Monday must, therefore, go on, no matter their shenanigans. We must join hands to make it compelling! Don't allow the ATMs to work, let the banks be closed and let us demonstrate the collective strength of Nigerian workers. "Let us show once and for all that we can neither be intimidated nor purchased! Let us show them that it is only by meeting our demands that we can back down."
Read also: ASUU strike update: FG and ASUU to meet today
ULC had earlier issued a 14-day ultimatum and another seven-day notice to the Federal Government over an 11-point demand, threatening a nationwide strike should government fail to address the demands. The seven-day strike notice which was termed "Final Notice", expired last Friday.
The group is demanding, among others, ''that the Federal Government bans the stationing of the soldiers and Policemen  in our workplaces and factory premises. "This will stop employers who are now colluding with the Army and other security agencies from setting up garrisons in our factories for the purposes of intimidating and harassing workers in order to deny them their rights and privileges.
"The Army and the Police should immediately withdraw their garrisons in the different workplaces where they are currently stationed. "That the Government should demand that the Federal Ministry of Labour set up a task force immediately to carry out factory inspections as most of our factories are death traps. An immediate review of the privatization of the Power Holding Company of Nigeria (PHCN) to save Nigerians the agony of suffering under the suffocating darkness which the GENCOs and DISCOs have foisted on the nation.
"The government should immediately prevail on AMCON and Barrister Nwaobike (SAN), the receiver-manager of Delta Steel Company, Ovwian-Aladja, who short-paid workers by 75% to quickly rectify it and repay the deficit. "The immediate payment of all the arrears of salaries owed Nigerian workers at all levels of Government without exception.
"The Federal government honours its 2009 agreement with university lecturers under the umbrella of ASUU quickly and commence negotiations with them on new issues so that our universities will re-open.
Read also: IPOB plans to humiliate Buhari at UN Assembly
"The roads leading to all the petroleum refineries and depots nationwide be repaired by government to avoid the present carnage of lives, wastage of products and properties on these roads.
"That the proposed Bill at the National Assembly seeking to control free speech couched under the guise of the Bill against hate speech but has the real intention of protecting the ruling elite from being held accountable by the citizenry.
We, therefore, demand the discontinuance of that obnoxious Bill by whoever sponsored it. The withholding of registration certificate of the ULC be stopped and the certificate released forthwith so that the nation's industrial relations clime will be made more inclusive and robust.
"The immediate inclusion of all representatives of labour in the various committees, agencies and directorates of government and not singling out just one centre for these purposes, negating the tenets of the nation's laws. Any of such appointments that have been done contrary to this, we demand an immediate reversal.
"The immediate inauguration of the national minimum wage negotiating committee in line with the above so that it can commence sitting instantly.''
The Trade Union Congress, TUC, reacted in a similar manner. It will be recalled that at a joint briefing in Abuja last Friday, President of NLC and its TUC counterpart, Ayuba Wabba and Bobboi Kaigama respectively, had contended that ULC and its affiliates are fake unions that had not been registered, and will not be registered since all their areas have effective union coverage that were currently affiliates of the NLC and TUC.
They claimed the promoters of ULC are "trying to take advantage of the unstable security and industrial relations situation in the country to increase the tension and give a bad name to trade unionism." Efforts to speak with officials of the Federal Ministry of Labour and Employment were unsuccessful as several calls put across to their GSM phones as well as text messages were not answered.
However, the Ministry on Thursday,  through a statement by the Permanent Secretary, Ministry of Labour and Employment, Bolaji Adebiyi, had declared the group illegal, warning that it would not fold its arms and allow an unrecognised group to hold the country hostage.
Download Naija News App. Advertise with us. Send us enquiries and press releases.