Revealed: Senator Misau graduated from ABU in 1977… at the age of three!
How old exactly is Hamman Isah Misau, the senator representing Bauchi Central Senatorial District in the eighth National Assembly? And when did he finish his university education?
These are the questions begging for answers after a random search by the ICIR yielded his profile on the official website of National Assembly.
According to that profile, Misau graduated from Ahmadu Bello University (ABU) Zaria in 1977 after studying Business Administration; and he holds a Master's degree in Law, which he obtained in 2010.
But, according to the same profile, Misau, who is currently in the eye of the storm following his bribery allegation against IGP Ibrahim Idris, is 43 years old. This implies that he was born in 1974 and, more damningly, that he was just three years old when he graduated from ABU.
SOCIAL-MEDIA SAVVY MISAU
Maybe the famed printer's devil is to blame. But Nigerian Biography, an online platform, says Misau was born in 1970. Were this to be correct, Misau left university aged seven. genius!
Misau prides himself on being the youngest senator in the current National Assembly.
"Thank God, the older senators don't look down on me," he told Daily Trust in an interview last year.
"They give me the opportunity to voice out my feelings, both in the chambers and during committee sittings. Sometimes, I even forget that I'm the youngest when I'm relating with them. Likewise, they do also forget that they are older."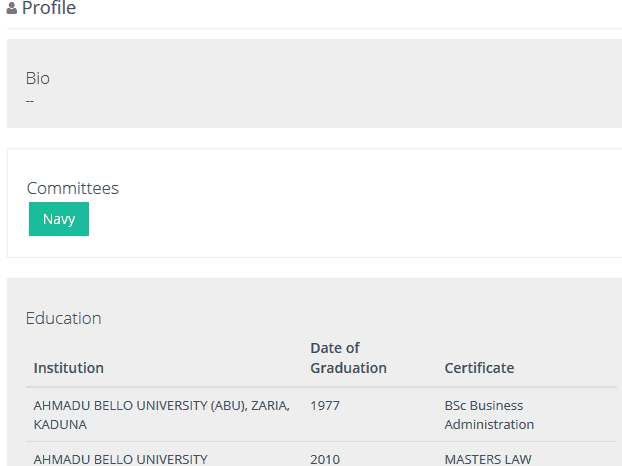 Given his self-avowed social-media compliance, it is a surprise that he hasn't noticed age versus graduation discrepancy on the NASS website.
"Some of them [older senators] rely on me when it comes to certain things; they request for my inputs, especially on issues concerning youth," he said in the same interview. "I get information on Twitter, Facebook and other social media platforms which, to certain extent, age may not permit the older senators to read them."
So, why hasn't Misau spotted his bio-data on the National Assembly's official website?
THE OTHER SIDE OF AGE FALSIFICATION
Misau would not be the first, and maybe not the last legislator — should that be the case — to falsify his age. One particularly striking example was not of age reduction but exaggeration.
Salisu Buhari, first Speaker of the House of Representatives at the turn of the Fourth Republic, lied his way to the lower chamber, falsifying his age. To become a federal lawmaker, he claimed he was 36 years old as of 1999, although he was born in 1970, meaning he was only 29 at the time and was one year short of the minimum age requirement to be in the House. But that was not his only lie.
He claimed to have attended University of Toronto in Canada and graduated with a degree in Business Administration, but the university denied he was ever a student of the institution. It was also discovered that after falsifying his credentials to gain admission into ABU, he was expelled and barred from participating in the National Youth Service Corps (NYSC).
When he was found out in 2000, Buhari broke down in tears, saying: "I apologise to you. I apologise to the nation. I apologise to my family and friends for all the distress I have caused them.
"I was misled in error by my zeal to serve the nation. I hope the nation will forgive me and give me the opportunity to serve again."
NOT THE FIRST WEBSITE ERROR
Is it possible Misau's age versus university graduation on the NASS website is an error? Quite possible — and this wouldn't be the first time.
In August 2006, the website of the Nigerian Football Association (NFA), as it was then known, stated Obafemi Martins' date of birth as as May 1, 1978, which means he was 28 years at the time instead of the 21 he was claiming.
The NFA soon clarified, though, that it was an "administrative error", and apologised for the confusion.
So, Misau wouldn't be the first victim of "administrative error". But someone must apologise!