Nnamdi Kanu: Death awaits anybody who tries to arrest me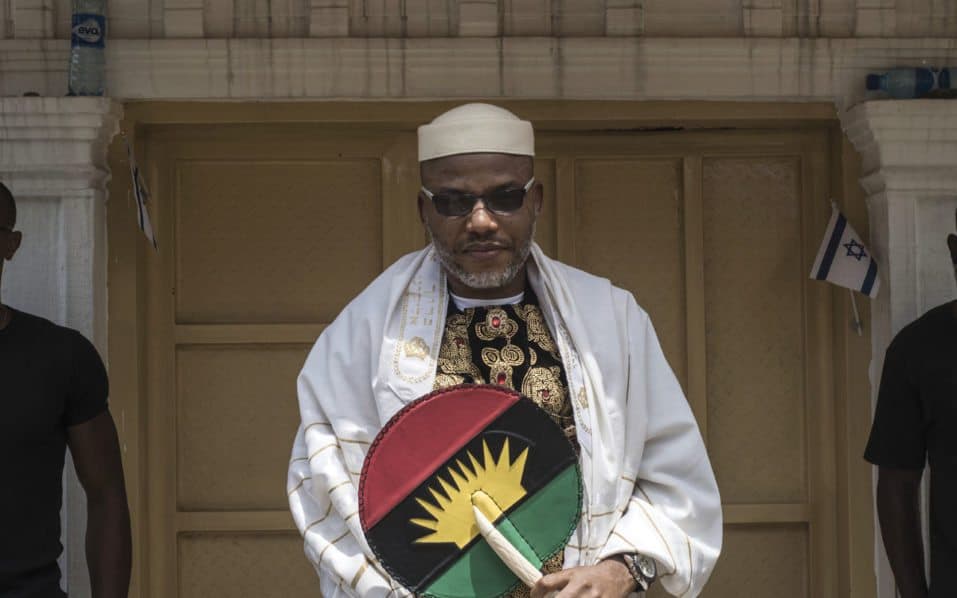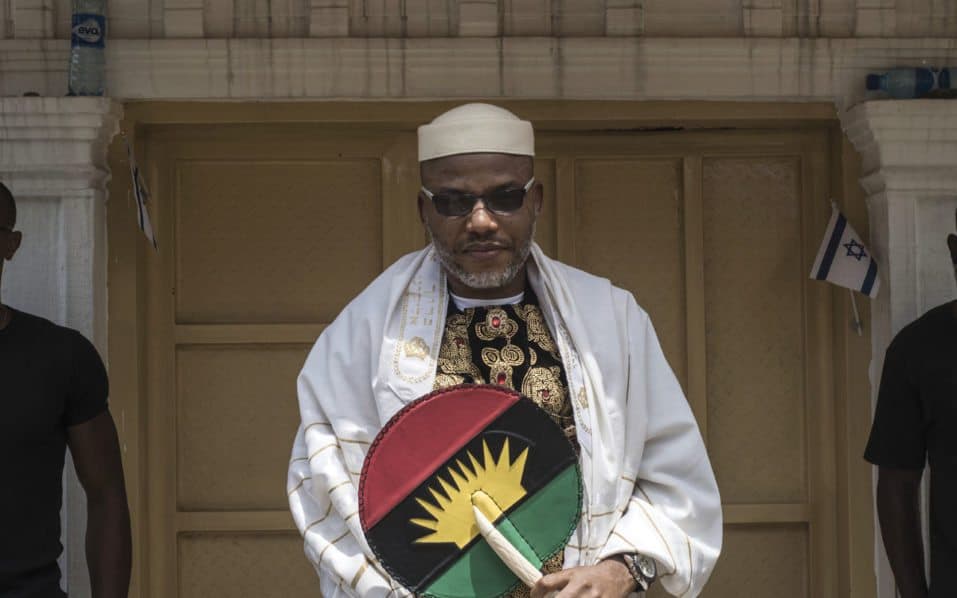 IPOB leader, Nnamdi Kanu, in reaction to the recent calls by the federal government that his bail should be revoked, warned that anyone who tries to arrest him will die.
Recall that Justice Binta Nyako, of the federal high court in Abuja, granted him bail on April 25, after 18 months in the custody of the Department of State Services but he has constantly flouted all the bail conditions, prompting the calls for his arrest.
But speaking on Sunday at Boys Technical College (BTC) in Aba, Abia state, Kanu claimed the agitation for Biafra was unstoppable and divine, adding that there would be no going back until Biafra becomes a reality.
"Where we are, is Biafra Land. Aba is the spiritual capital of Biafra land. We started in Aba in 2015 at CKC (Christ the King Catholic Cathedral)," Kanu said.
READ ALSO: Biafra: Dambazzau protecting Arewa youths – MASSOB
"That day, heaven authenticated our move that IPOB will restore Biafra and that's what we've come to do. We died in Aba; at National High School.
"They shot and killed us in other places in Biafra land when they were protesting for my release. As our people rest in the grave, we'll never rest until Biafra is restored. I don't care what they say in Abuja. I don't give a damn what they say in Lagos.
"I'm a Biafran and we are going to crumble the zoo. Some idiots who are not educated said that they'll arrest me, and I ask them to come. I'm in Biafra land. If any of them leaves Biafra land alive know that this is not IPOB. Tell them that's what I said.
"Tell Buhari that I'm in Aba and any person who comes to arrest Nnamdi Kanu in Biafra land will die here. I'll never go on exile I assure you.
"Some people talk about restructuring, are we doing restructuring of Nigeria now? Are we doing fiscal federalism? Are we doing devolution? What we want is Biafra!
READ ALSO: IYC lashes President Buhari's control of the Arewa Youths, IPOB, N'Delta agitators
"Forget all the nonsense they write about us. We are not slowing down and no man born of a woman can stop us.
"They thought we are joking and God gave us a simple message that no one can stop us. The movement to restore Biafra is unstoppable.
"The message of heaven is what I bring to you. Don't be afraid. The plans of our enemies are not going to be actualized. The enemies are planning, but we are formidable.
"We are going to boycott Anambra state election. After Anambra 2017, in 2019, there'll be no elections in Biafra land. Signed and sealed. My message is that there'll not be election in Biafra land ever again until they give us date for referendum."
Meanwhile, the Indigenous People of Biafra have also dared President Buhari and the federal government over their plans to re-arrest their leader, Mazi Nnamdi Kanu, claiming the federal government's claims are just political statements.