FCTA Demolishes UTC Shopping Complex [Photos]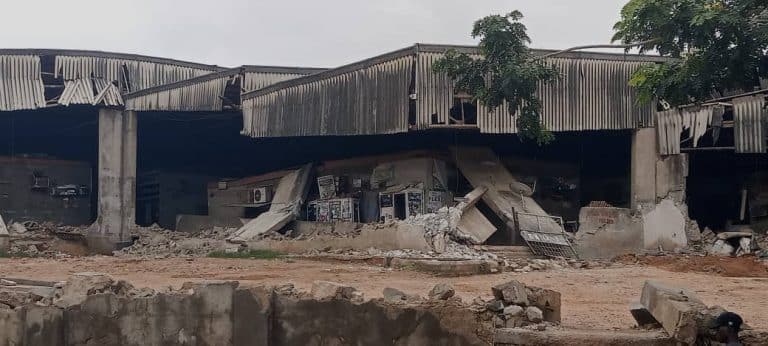 The Joint Task Force of the Federal Capital Territory Administration (FCTA) on Saturday demolished the UTC Shopping Complex located at Area 10, in the Garki area of Abuja.
According to shop owners, officials of the FCTA stormed the area in the early hours of Saturday, barring them from evacuating valuable items from their shops before the demolition began.
They disclosed that they were not given any notice of demolition, although they had been instructed to move to the other complex provided, which, they argued, had not been completed and could not contain the over 480 shops in the now demolished complex.
However, one John Sunday admited to The PUNCH that the FCTA had sent a notice earlier in the year but the shop owners had relaxed since the matter of the ordered move was still being contested in court.
He said: "Yes, we were given notice earlier this year that they were coming. But the whole matter is still in court, according to what our leaders in the complex told us. So we just had hopes that it was a fifty-fifty situation; we didn't think it would happen this way. So perhaps the case had been settled in court without us knowing."
Another shop owner, Yusuf Adebayo, insisted they were not notified at all, adding that "I'm not aware of that".
He further said​​ that the new shops provided had not been fitted with amenities such as electricity, despite the fact that about 300 shop owners had already paid about N250,000 each for the shops.
"They asked us to relocate to the other side, and that place they are trying to take us to, they have not done anything. No lights, no proper arrangements for people to move in there. People have already paid. They said they should pay. I think they are paying about N250,000 for each shop. And about 300 shop owners have paid already, and nothing has been done properly," he said.
"We came here this morning; they blocked everywhere; they did not allow us to enter. So there was even a man who was trying to speak up that they should allow us to carry our things, but they arrested him, and even the person that went to plead for him was arrested.
"They were spraying tear gas, they beat him up as if he were a child. Even me too, I ran there to go and carry some things; they sprayed tear gas inside that place; they wanted to kill people with tear gas, that policeman was even threatening to shoot us," a salesgirl, who declined to be named in this report, alleged.