Trouble For Sabinus As Group Asks EFCC For His Arrest For Promoting Alleged Ponzi Scheme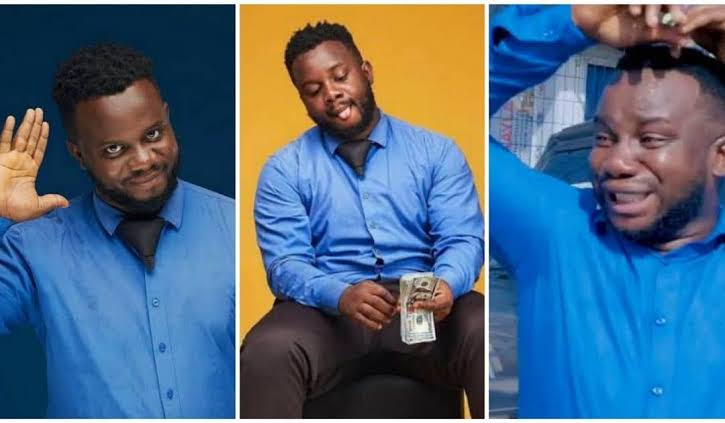 Some aggrieved Nigerians have reportedly petitioned the Economic and Financial Crimes Commission (EFCC) to arrest Nigerian comedian, Emmanuel Chuwkwuemeka Ejekwu better known as Sabinus for endorsing an alleged Ponzi scheme company, AI Mining.
Reports are that Sabinus appeared in adverts for the company which has allegedly defrauded many people.
Naija News understands that Sabinus appeared in different promotional videos and photos of the company allegedly owned by one Chiamaka Glory.
Seeing that he is a celebrity, many unsuspecting Nigerians invested in the company's scheme.
The AI mining app is said to have crashed, leaving investors due for payment stranded.
According to SaharaReporters, some subscribers who invested in the scheme have been calling Sabinus unprintable names for promoting the Ponzi scheme.
The comedian it was gathered has been silent since the app crashed.
"Prior to mischievous scam activities carried against many innocent Nigerians by a company named AI MINING on 30th of March, 2023, whose ambassador in Nigeria is one Mr Chukwuemeka Emmanuel Ejekwu, a comedian celebrity popularly called Mr Funny / Sabinus," a petition by some Nigerians to EFCC read.
"We want this body to invite Mr Funny Sabinus Chukwuemeka to reveal the identity of the people behind AI MINING since he can't be contracted by ghosts.
"We are also using this letter to tell you to help reveal the real identity of the entities behind the license/ certificate issued to AI Mining operating at Church gate Towers Abuja 2nd floor.
"Sequence to this also, we want the anti-graft agency to extend an invitation to the General Manager of NTA, FAAJI FM, WAZOBIA to also reveal the identity of people that contracted them to run a series of jingles for them under the company named AI MINING, that made millions of innocent Nigerians to invest on their platform leveraging on the integrity of those stations," the petition read.
One of the scammed investors who spoke to reporters said, "Please help us, poor masses are dying because of any borrowed money to invest because of all the evidence provided by them with TV and radio stations that advertised to them.
"We got the advert on NTA, Wazobia, Silver Bird and Sabinus and other means about AI mining, that it is genuine, so many people because it was coming from national television stations keyed into it. After some months many Nigerians invested a huge amount of money, they closed the app and refused to return people's money.
"Many borrowed money for that investment, many used their hard-earned money to invest and a lot are dying because of the huge amount they invested. Help us please."