Fuel Scarcity, Hike In Prices Looms – Oil Marketers Warn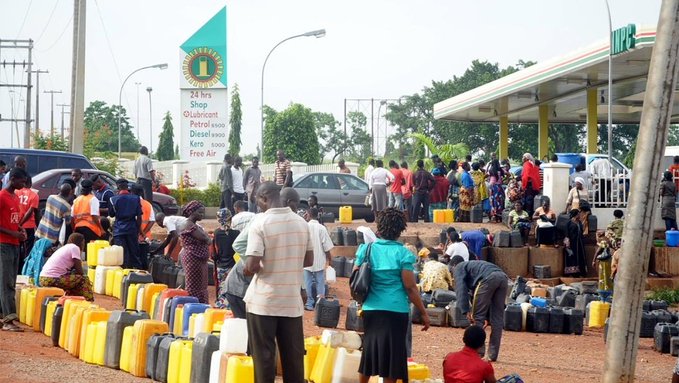 Oil marketers under the aegis of the Independent Petroleum Marketers Association of Nigeria (IPMAN) have warned that there might be incidences of fuel scarcity and price hikes due to incomplete delivery of Premium Motor Spirit, popularly called petrol.
According to them, there has been an uneven distribution of fuel to independent marketers in recent times from the Nigerian National Petroleum Company Limited (NNPCL). If not attended to, the development might lead to scarcity and cause price disparity in retail outlets.
Naija News gathered the marketers explained that the uneven distribution of fuel to many filling stations has compelled members to buy the product from retail outlets and owners of a tank farm at very high prices.
The marketers complained that marketers under IPMAN cover about 89 % of filling stations nationwide, yet independent marketers have been made the third tier in terms of the bulk distribution of petroleum products.
In his reaction to the development, the National President of IPMAN, Debo Ahmed, expressed worry about the issue saying downstream oil sector operators "must do something now to restore the depleted faith of independent marketers, especially at the Port Harcourt coastal depots."
Naija News learnt that the IPMAN president's reaction which was sent to The Punch on Tuesday by the association's National Public Relations Officer, Chief Ukadike Chinedu stated that "In the second week of February this year, a vessel discharged about 28 million litres (622 trucks) of PMS in TSL depot (Oando).
"A 162-truck programme was released for IPMAN, which was about 7.3 million litres. Out of the 162 trucks programme given to us, we struggled to load less than 100 trucks. About 62 tickets are still there waiting for the next vessel.
"In the last week of February, another vessel discharged 13 million litres (288 trucks) of PMS at Liquid Bulk. Only a 56-truck programme was released for IPMAN. We were all expecting the next programme, just to hear that the product finished last week.
"Last week, a vessel with 13 million litres (288 trucks) discharged at Master Energy.
"As of this moment, IPMAN has not received any programme for that product.
"Another vessel will discharge at TSL. IPMAN, what's our fate?
"This is the right time to toss away the crutches of comfort and restore the hope and expectations of all independent marketers. Is important we start our protest as soon as possible.
"This is important so that Nigerians will know what is going on with us and the new retail. The lopsided distribution pattern will continue to cause scarcity and price disparity in retail outlets."
In his own reaction, the IPMAN national PRO pointed out that the NNPCL through its NNPC Retail subsidiary had not been delivering the exact number of trucks of fuel that were meant for independent marketers.
Chinedu submitted that "Here in Port Harcourt, for instance, we have Oando and NNPC Retail, and they have products in some private depots. Master Energy and Liquid Bulk also have products, but there is no volume for independent marketers.
"Independent marketers have no volume in all these depots and we have over 3,400 tickets lying and waiting at the NNPC Retail account. This new system is now making independent marketers beg for petroleum products from NNPC Retail.
"It is until NNPC Retail has finished loading products to its own outlets before it would now attend to independent marketers. It has made the independent marketers the third tier in terms of the bulk distribution of petroleum products, which is very incorrect."
He noted that the recent lopsidedness in products distribution by NNPC Retail "is the problem that leads to price disparity," adding that "we are now forced to go and buy products from retail outlets and some of these tank farm owners at a very exorbitant price."
However, all efforts to reach the Chief Corporate Communications Officer of the NNPCL, Garba-Deen Muhammad to react to the development,  proved abortive.