Enugu Guber Candidate Frank Nweke Raises Alarm Over INEC, PDP Rigging Plot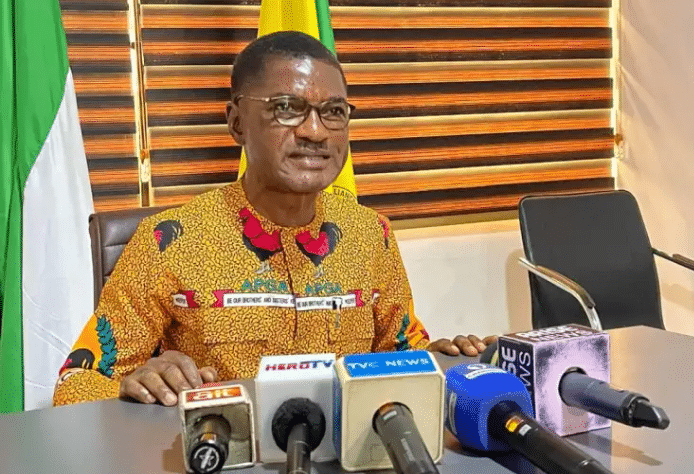 Frank Nweke Jr., a member of the All Progressives Grand Alliance (APGA) who is running for governor in Enugu State on March 11, 2023, has claimed that the Peoples Democratic Party hired some INEC employees to rig the election.
Frank Nweke, a former minister of information, made the claim during a news conference in Enugu on Friday, adding that the Bimodal Voter Accreditation System had been bypassed by INEC officials and ad hoc employees to rig the election.
He said that to sway votes at polling units, thugs had been organized to cause mayhem and generally disrupt the state's gubernatorial and House of Assembly elections.
Nweke said election officials would then have the chance to rig the results, weakening the electorate's steadfast desire to win.
Nweke said, "Since suffering massive losses across the state on February 25, 2023, the PDP has held a series of meetings at various locations to perfect their nefarious plans to ensure that they disrupt the electoral process, compromise INEC staff, and deploy maximum violence.
"A source that attended the meetings reported that they lamented that they were falsely led into believing that BVAS was impregnable by INEC and that manual voting was impossible.
"According to them, events in Port Harcourt and some parts of the country had demonstrated otherwise; and that they must now take advantage of it by deploying sums of money to compromise INEC staff, buy votes and cause maximum violence to scare voters who do not vote for them and intimidate others into voting for them against their will.
"They have therefore resolved to 'buy' INEC staff to sabotage the elections as described above, and also to specifically ensure that the original result sheets are neither brought to the polling units nor the ward and local government collation centers. Since the iREV malfunctioned last Saturday, they reasoned that they would calmly write new results when the representatives of other political parties disperse at various collation centers in the belief that results had been announced.
"The compromised INEC team is led by a staff of INEC called 'Ifenna Onoh' who for several years has been the liaison between the state government and in particular, the Chief of Staff, Enugu Government House, and INEC officials. It would appear that the relationship has been groomed for years in preparation for this election."
Ifeanyi Ugwuanyi, the governor of Enugu State, was said to have benefitted from Mrs. Ifenna Onoh's hiring of INEC staff, particularly in the IT division, in return for obtaining land allocations and pilgrimage allocations, according to Nweke Jr.
He further claimed that hundreds of millions of dollars had been exchanged through third-party agents throughout the years to hide the money trail.
The guber candidate wanred that Onoh must thus take all necessary actions to ensure that Peter Mbah is sworn in as the new governor out of a sense of obligation to the people of Enugu State.
Because of this, according to Nweke, INEC keeps a covert office at the Fontana Hotels in Independence Layout.
Furthermore, Nweke asserted that they used security services in their plan. According to him, the security services must keep troublemakers away from polling booths and collation centers until their malicious plans have been carried out.
The Economic and Financial Crimes Commission, the State Security Service, the Inspector General of Police, and the National Headquarters of INEC have all been alerted, according to the former minister of information.
He claimed that it was necessary to inform all necessary stakeholders about the PDP's shenanigans to reassure the good people of Enugu that APGA, his party, will do all possible to safeguard their safety, ensure that their right to vote on March 11, and see that their votes count is preserved.
PDP Reacts:
In a prompt response, the Enugu PDP Campaign Council rejected the accusations, claiming that Nweke's claims were a cynical attempt to make excuses in advance for his anticipated dismal performance in the election.
In a statement released by Nana Ogbodo, the PDP's Director of Communications and Spokesperson for the Campaign Council, the party claimed that Nweke's influence on the March 11 polls was limited to his absurd speculations and that the race was clearly beyond his comprehension because he had been boxing above his weight throughout.