Europa League: Moses Simon Believes Nantes Will Beat Juventus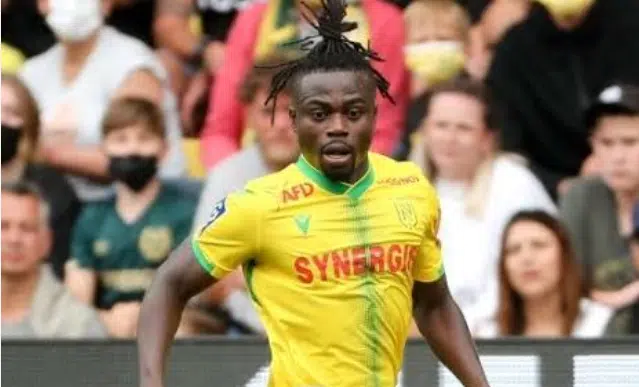 Nigerian striker, Moses Simon is confident of winning Thursday's decisive match between Nantes and Juventus in the Europa League's knockout round play-offs at the Allianz Stadium.
Moses Simon has impressed in six games for Les Canaris. He will be aiming to outdo himself once more against a depleted Juventus side.
The Nigerian winger, 28, who formerly represented Gentis in the Belgian Jupiler League, is certain that his French team, Nantes can surprise the Italian Serie A giants.
Simon is unconcerned despite the Old Lady's status since he believes his Nantes club has what it takes to defeat the Turin superpowers.
"I think the only thing we are waiting for is a victory against Juventus," Simon said in an interview with Europa League's official website ahead of the Juventus vs Nantes clash which will kick off at 20:00 later tonight.
"But we all know that in football you never know. Juventus is a great club, they have a great team. But we just have to wait for D-Day and the best will win.
"We know of course that many people will say that Nantes remains Nantes, that it is a small club.
"However, I think in this family, in this group, we have a good mindset, even when we lose, we try to never give up. So, I think we will look no matter what to qualify."
Juventus' last matchup with Nantes took place in the 1996 Champions League semifinals. Juve knocked out the French team and went on to win the title after defeating Ajax in the final.
Nantes is now aiming for three straight victories in Europe for the first time since 2001 after winning their final two Europa League games last year which got them this far.
In Group H, where they lost five times, including to underdogs Maccabi Haifa, Juventus are one of the big teams that failed to qualify for the Champions League round of 16 this season.