Hugo Lloris Insists He Didn't Block Benzema's Return To France World Cup Team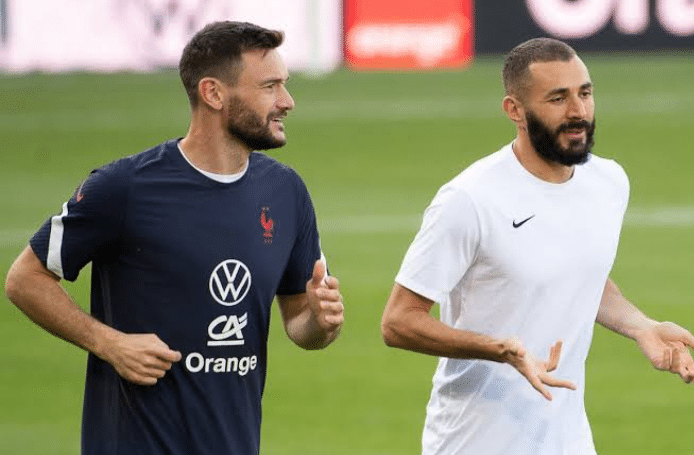 Hours after announcing his retirement from international football, former France international, Hugo Lloris has had to defend the role he played in the team during Qatar World Cup.
Hugo Lloris announced his retirement from international football on Monday, less than two weeks after leading France to the final of the Qatar World Cup.
Days before the tournament which France lost to Argentina via penalties, Karim Benzema sustained an injury in Qatar which forced him to return to his club, Real Madrid, for rehabilitation.
The reigning Ballon d'Or winner recovered before France played Morocco in the semi-final stage of the tournament but wasn't able to reunite with the team ahead of the game.
Without him, France got to the final but there were strong speculations that Benzema would reunite with the French team before the final but it was not to be.
Reports then were that Hugo Lloris, who was the captain of the team, connived with some other players to block Benzema's return.
On the contrary, Lloris told l'Equipe that the reports were ridiculous and not true.
He said: "There are a lot of things that have been said, which are either false or ridiculous: the atmosphere was very good before he left, and very good after. But we would all have preferred that the Ballon d'Or winner when we see what he has brought since his return, could be with us. He's still a major asset!
"To say that we would have pushed for him to leave is completely false, and I do not see how we would benefit from that. He was essential for 18 months, he helped us win the Nations League, and his return would only have been positive. It is dishonest to claim that some of us were in favor of his departure. When you approach a World Cup, you want to do it with your best players."
The French goalkeeper added: "For Karim, we were all a little surprised. What we as players experienced with his departure is this: you train in the evening, he gets injured, you go to bed, and the next day when you get up you are told that Karim has left. Everything happened so quickly. It was presented as a medical package, and we, the players, discovered it in the morning, in a period when something was happening almost every day."
Just like Hugo Lloris, Karim Benzema announced his retirement from international football after the Qatar World Cup. Benzema retired after making 97 appearances and scoring 37 goals for France's national team.