PDP Governors To Reconcile Atiku, Wike As Ex-northern Gov, Ex-military Officer Frustrate Peace Moves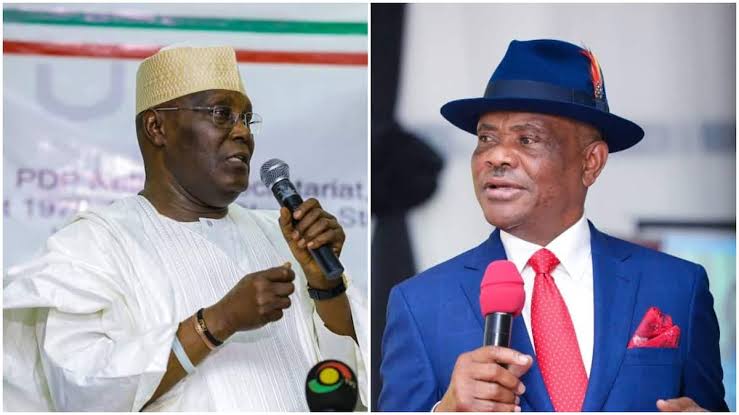 Governors elected on the platform of the Peoples Democratic Party (PDP) are set to meet over the feud between Governor Nyesom Wike of Rivers State and the presidential candidate of the party, Atiku Abubakar.
Governor Umaru Fintiri of Adamawa State, chairman of the reconciliation committee, is set to host governors that would intervene in the rift.
Speaking to Vanguard, a source disclosed that the  PDP governors will meet this week in Adamawa State to resolve the protracted rift between Atiku and Wike.
The source said: "I do not see it as a rift. I know there are plans by Governor Umaru Fintiri of Adamawa State to host the PDP Governors' Forum in his state.
"I do not know whether they have fixed the date yet, but it is going to be within this week or next week. The governors will meet and discuss issues at that level as part of the reconciliation efforts.
"I am aware the governors are talking among themselves, and as you know, they hold their meetings from one state to another. Fintiri has not hosted, and this is his turn to host, and I can tell you authoritatively that the governors are talking among themselves about the need to hold that meeting urgently. Since the convention, no meeting has been held.
"Some of the PDP governors believe that if Fintiri is hosting the meeting, he is seen as a neutral person that can pull all the sides together."
The source stated that Governor Wike is disposed to a peace parley, adding that the Rivers State Governor has said he doesn't have a problem with Atiku.
Meanwhile, multiple sources disclosed that a former northern governor and an ex-military general are frustrating moves to reconcile Atiku and Wike.
According to sources, the forces, who do not want the removal of the PDP National Chairman, Iyorchia Ayu, warned that they "will continue to thwart the reconciliation move if it does not favour them."
The source said: "Ayu too is adamant. Wike has given his condition, and one of the conditions is what will the South be given to campaign with? Another condition is that Ayu must resign, and the position of national chairman must come to the South.
"Ayu also gave his condition that he would not be the only one to go, and that all members of the National Working Committee, NWC, must resign. In as much as you have an internal setup that will thwart the reconciliation move, the party is not ready.
"For Wike, he has given his conditions, and if the party is not ready to meet those conditions, he will sit on the fence."