2023: Sowore Exposes Atiku, Garba Shehu, Accuses Them Of Leaking Official Documents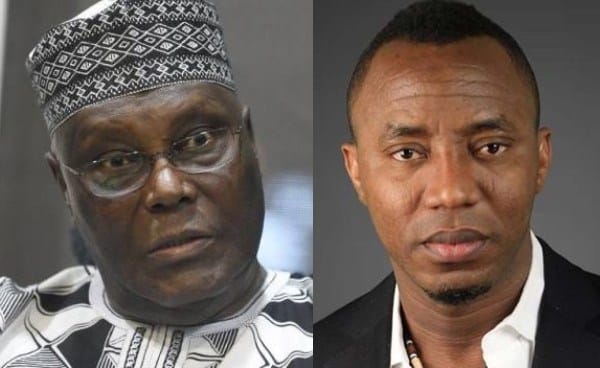 The Presidential candidate of the African Action Congress (AAC), Omoyele Sowore, has accused the Presidential candidate of the Peoples Democratic Party (PDP), Atiku Abubakar, and Presidential Spokesman, Garba Shehu, of leaking government documents.
Sowore stated this in a chat with Arise Television on Monday while responding to Atiku's remark against him in an interview last Friday.
Recall that Atiku had on Wednesday complained about the frequent collapses of the electricity National grid.
In a swift response, Sowore alleged that Atiku and former President Olusegun Obasanjo caused the national electrical grid to collapse when they invested $16 billion to procure darkness for Nigeria.
Reacting to Sowore's claim, Atiku during the Arise Tv interview claimed that the AAC presidential candidate lives outside Nigeria and comes only after four years to contest the election, adding that he knows nothing about the power sector.
However, responding to Atiku's remarks on Monday, Sowore said when Garba Shehu was a Media aide to the ex-vice president, he used to receive documents to counter Atiku's principal, Obasanjo.
The publisher of SaharaReporters said that he is revealing the matter for the first time since Atiku left office in 2006.
"When Garba Shehu used to work with him (Atiku) as Special Assistant (SA), they used to send me documents from their side – I'm revealing it for the first time – to counter Obasanjo, in those days that they were on each other's neck," he said.