2023: I Didn't Reject Wike As My Running Mate – Atiku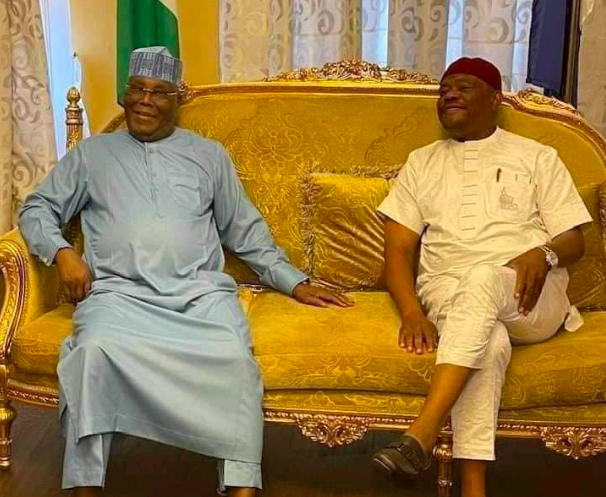 The Peoples Democratic Party (PDP) presidential candidate, Atiku Abubakar, has denied claims that he rejected Governor Nyesom Wike of Rivers State as his running mate.
Naija News reports that the former vice president made the disclosure during an interview on Arise TV on Friday.
Recall that Governor Samuel Ortom of Benue State in an interview last month said 14 out of 17 members of the PDP panel preferred Wike as the vice-presidential candidate of the party.
Ortom claimed Atiku had ignored the recommendations of the panel he set up to pick his running mate by picking Governor Ifeanyi Okowa of Delta State as his running mate.
Following the development, Governor Wike and other PDP chieftains were offended with Atiku over the choice of Okowa as his vice presidential candidate.
Speaking in the interview, Atiku refuted claims made by Ortom that the panel voted and chose Wike as the preferred candidate for the vice presidential slot.
He said the panel only recommended Wike, Okowa and Governor Emmanuel Udom of Akwa Ibom state as nominees for the vice presidential position.
Atiku stated that he picked Okowa over Wike because he can work with the Delta state governor and also have an understanding of his vision for the nation.
"First and foremost let me put the record straight. The committee that was set up at my own instance, deliberated. There was no vote and they recommended three names. Because they knew that it was prerogative to pick nay one of the three. So there was absolutely no vote, it s not true.
"Ortom himself chaired the committee. He knows that there was no vote taken and I have the report of the committee. They recommended three people and out of the three people, I picked one. I did not go out of the recommendation. So, I think people should be fair to me and should also state the facts.
"Governor Wike is a brilliant politician, he is courageous, he is tenacious and I believe he has a future in the political evolution of the country. So it is not a question of rejection. Certainly not. I think it is too harsh a word to say that we rejected Governor Wike. Certainly not."