Five Moments Ekweremadu Has Been Involved In Controversy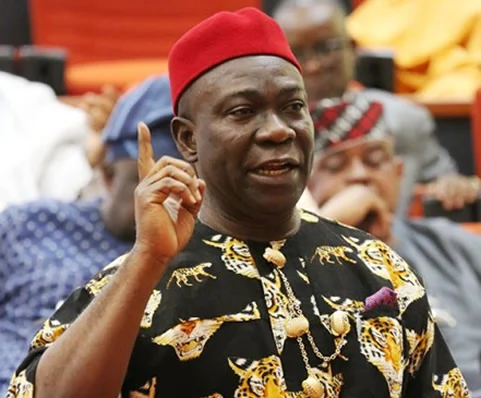 Former Deputy Senate President, Ike Ekweremadu has made headlines for the wrong reasons since his emergence as a member of the National Assembly.
The lawmaker has been involved in at least four controversial issues ranging from alleged corruption to the reported case of organ harvesting.
Ekweremadu, however, made the headline on Thursday following his arrest and that of his wife, Beatrice, in London by the UK Metropolitan Police.
Below are some of the moments the Enugu lawmaker has been involved in controversies.
Arrested for Organ Harvesting
Ekweremadu and his wife, Beatrice, were arrested in London by the Specialist Crime Team of the UK Metropolitan Police for alleged conspiracy to harvest the organ of a child.
In a statement on Thursday, the Metropolitan Police confirmed that the pair conspired to facilitate the travel of a child to the country in order to harvest the minor's organ.
The couple, who were earlier charged before Uxbridge Magistrates' Court in London, have been denied bail and remanded till July 7.
Disgraced In Enugu
In January 2021, Ekweremadu was disgraced and whisked away in Ulunya, Ovoko, Igbo-Eze South LGA of Enugu State when some suspected thugs invaded a football pitch where he kicked off a match.
It was gathered that some hoodlums who were not comfortable that a football tournament was sponsored by Ike Oha Foundation, owned by Ekweremadu, pulled down the goalposts and allegedly chased the lawmaker and his entourage out of the match venue.
Beaten in Germany
Ekweremadu was assaulted by suspected members of the Indigenous People of Biafra (IPOB) while attending a cultural event in Germany in 2019.
The lawmaker, who confirmed the attack in a statement, said the attackers were members of the Indigenous People of Biafra (IPOB), a South-East secessionist group.
A video of the attack was widely circulated on social media. In the video, a mob attacked Ekweremadu as he attempted to enter the venue of the event in Nuremberg, Germany.
In the one-minute video, the mob chanted 'go back' while trying to deny the former deputy senate president entry.
Accused of Forgery
In 2016 when he was the Deputy Senate President, Ekweremadu was tried before an FCT high court for allegedly forging the Senate Standing Rules 2015.
He pleaded not guilty to the two counts of criminal conspiracy and forgery when the charges were read to him before Justice Yusuf Haliru.
Alleged Fraud
In 2015, an investigation by PREMIUM TIMES revealed how Nigerian Senators, led by Ekweremadu, allegedly withdrew N7.75 billion of public funds in four years to purportedly review sections of the 1999 Constitution.
In the investigation, the newspaper found that between 2011 and 2015, the then 53-member House of Representatives Ad-hoc Constitution Review Committee and its 49-member counterpart in the Senate in the 7th National Assembly withdrew N3,250,000,000.00 and N4,500,000,000.00 respectively to purportedly execute the fourth alteration of the Constitution.