Hoodlums Humiliate Ex-Gombe Governor, Danjuma Goje (Photo)
The former Governor of Gombe State, Senator Danjuma Goje, was reportedly subjected to humiliation on Friday in Gombe, the state capital.
According to the spokesman of the lawmaker, Lilian Nworie, her principal's vehicles were attacked by some political thugs around International Conference Centre on the Bauchi – Gombe Road.
Nworie stated Goje's vehicles were attacked with dangerous weapons as he was about to enter the state capital for a personal engagement.
The media aide stated that the thugs set bonfires on the main road, preventing the Gombe Central Senator from entering into the state.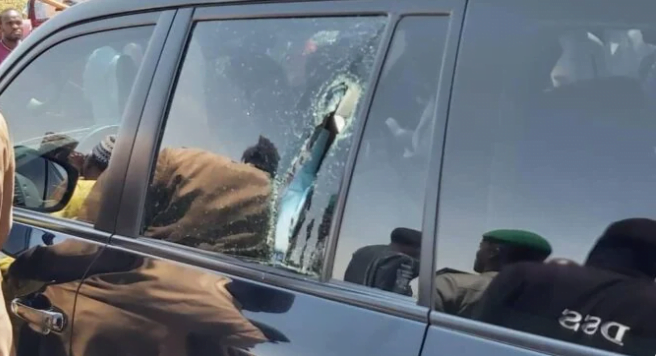 Nworie, however, accused the state Governor, Inuwa Yahaya, of being behind the attack, adding that police officers stationed in the area failed to arrest the thugs during the incident.
She said, "Senator Goje had a serious encounter with some political thugs who burnt tyres on the main road as he was about to enter the state capital around International Conference Centre on the Bauchi – Gombe Road.
"Policemen stationed at the area refused to call the thugs to order as they were watching them cause mayhem in the state.
"Distinguished senator's trip was peaceful until the governor's aides, including his aide-de-camp and his personal driver, blocked the road. For two hours, they unleashed terror on Senator Goje and those in his convoy.
"It is unfortunate that one life was lost and many cars vandalised, including the Senator's vehicle. They smashed the windscreen.
"All efforts to make the governor's aide-de-camp remove the blockade yielded no result as he insisted that he got instruction from above that the former governor should not be allowed into the town."
Naija News gathered the clash between the supporters of the two political actors reportedly led to the death of five persons, with several others injured and a number of vehicles destroyed in the fracas.
Recall that the Gombe Governor had denied reports of a rift with Senator Muhammad Danjuma Goje over the leadership crisis in the state.
In an interview with BBC Hausa Service in September, governor Yahaya said he has no issues with Goje over who should be the party's leader in the state, adding that the party's arrangements must be adhered to.
The governor also emphasized that they all belong to the All Progressives Congress (APC) and that the party provisions should be followed.