How Can Baze University Award LLB To Melaye And Ubah Who Has No SSCE In One Year? – APC Legal Adviser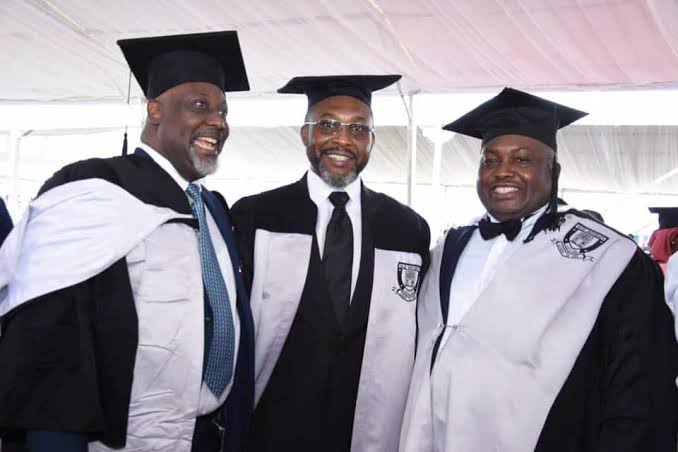 The Baze University of Abuja has been Slammed for awarding law degrees to Senator Dino Melaye and Senator Ifeanyi Ubah.
Naija News reports that the politicians graduated from the Abuja varsity the last weekend.
Melaye who represented Kogi West senatorial district in the 8th assembly is said to have graduated with 2:2 while Ubah, a governorship candidate of the Young Progressive Party (YPP) in the November 6 Anambra election also finished with the same grade point.
In his reaction to the development, All Progressive Congress Imo NEC Legal Adviser, Barr. Uzukwu Patrick Eze, described Baze University as a disgrace, saying that the degree award must be thoroughly investigated.
Eze in a statement made available to newsmen hours ago called on the Council of Legal Education that regulates the training of lawyer's in Nigeria to investigate the degrees awarded to the politicians.
He described as nonsense the activities going on in the Faculty of the law of some private Universities in Nigeria.
Eze pointed out that Dino purportedly gained admission into Baze University in 2019, a time when both public and private universities were shut down in the country due to the emergence of the Coronavirus pandemic.
He said "The Council of legal education require a law student to spend a minimum of 5 years in the University before you acquire a law degree."
"On what planet will someone acquire a law degree after spending less than one year of studies in school except in Nigeria and at BAZE University", Eze asked.
He added: "To the best of my knowledge Senator Ifeanyi Ubah didn't attend a formal secondary school.
"He spent his secondary school time in Gabon as a trader. Now he's a law graduate with Second Class upper.
"This is utterly despicable. When did we descend this low.
"Can you become a medical doctor after one year of University education?
"If the medical colleges will not graduate a student in one year why should the council of legal education allow this nonsense to happen???"