Nigeria Will Be In More Problems With State Police Because Of Immature Politicians – Zulum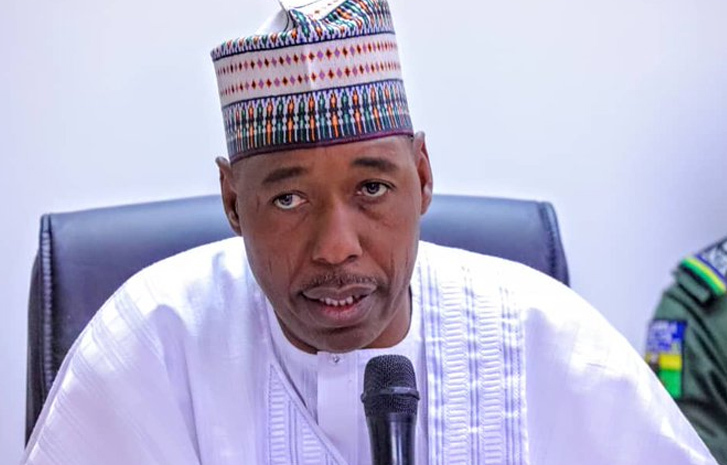 The Borno State Governor, Professor Babagana Zulum has stated that Nigeria is not ripe for the introduction of the state police system.
Zulum said state police will only become a tool in the hand of politicians to carry out vengeance against their perceived enemies.
The Governor lamented that unfortunately, he doesn't believe politicians who will be in control of state police have the maturity to handle such sensitive power, stating that some state governors can go as far as using such powers to wipe out an entire tribe.
The Borno Governor made his mind known on Wednesday when he spoke in Kuru, Plateau State at the National Institute for Policy and Strategic Studies (NIPSS) while delivering a lecture titled 'Ungoverned Space and Insecurity in the Sahelian Region: Implications for Nigeria Domestic Peace and Security.'
He called for a review of the long-term implications of demands for state policing.
"Honestly speaking, I, Babagana Zulum, will not support it, not because I don't like it, but because of the implications.
"Nigeria is not mature for state police. Some state governors can use it to wipe away other tribes apart from their tribes.
"So, we have to be very careful. If half of the power given to the Nigeria Army, police and others are given to state police, Nigeria will be in problem," he said.
Also speaking, Governor Zulum identified the politicization of recruitment in the nation's security forces as a major factor responsible for the ineffectiveness of some operatives in the discharge of their duties.
He lamented that many of those recruited into the security agencies are not patriotic but only have the backing of highly placed politicians who put them in the positions, thus making it more difficult to control them or bring them to order when they fail in the discharge of their responsibilities.
He added that there is another group of job seekers who see working in security agencies as just a means of survival to make ends meet.
The Borno Governor submitted that until such misnomers are corrected and only the best are recruited, it will be difficult to achieve needed progress in the fight against insecurity.
He said: "The major problem is the recruitment process. Those being recruited into the Nigerian Army, police and other security agencies are job seekers. Many of them are there because they don't have a job.
"Those enlisted 20 years ago are performing well, but these people are looking for employment only. So, there's no commitment and dedication.
"These days, governors, ministers and other top government functionaries have slots. Nobody is to interview them whether they are qualified or not. Admission into Nigerian Army, police and others are now politicized."
The governor added: "Unless we get it right, nothing will happen in this country.
"If we want to make progress, we must ensure that we pick the best. If not, we shall continue to recruit the dull ones. We must engage those that can deliver because we have a lot of competent Nigerians."