Ex-SGF Babachir Finally Explains Why He Asked 'Who's The Presidency' After Sack, Osinbajo's Role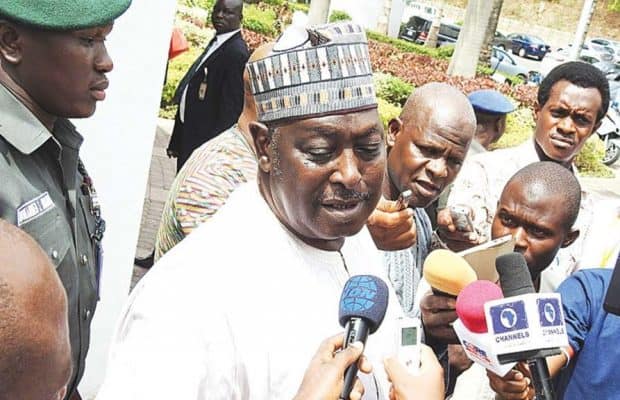 Former Secretary to the Government of the Federation (SGF), Babachir Lawal, has opened up on circumstances surrounding his suspension and subsequent sack from the cabinet of President Muhammadu Buhari in 2017, including the role played by Vice President Yemi Osinbajo in the incident.
He disclosed that he was forced to reply journalists with the question: "who is the presidency?" after they told him that his removal was announced by the presidency when he, as the Secretary of the Presidency, has not yet been formally asked to go.
It would be recalled that Lawal was suspended from office in October 2017 over a controversial grass cutting contract worth N544million. He was accused of diverting a contract of the Presidential Initiative for North East (PINE) awarded for the removal of grasses in Internally Displaced Persons (IDP) camps to his personal company.
Lawal, while addressing his suspension for the very first time during late Tuesday interview with Arise News monitored by Naija News, claimed that a conspiracy theory played out in his removal from office, and that his suspension was purportedly masterminded by Vice President Yemi Osinbajo.
He insisted that Buhari was not carried along in his suspension in 2017 as the President believes in giving public officials about to be relieved of their appointments at least three days notice to inform their family and friends, so that they wouldn't have to hear of such announcements from the media.
Lawal explained that following the emergence of the allegations levelled against him by the Senate, the Vice President invited him over to his office at Aso Villa. He disclosed that Osinbajo briefed him on the situation surrounding the allegations and informed him that the announcement of his suspension would be made few days after the meeting.
According to him, Osinbajo said that the decision was communicated by the President. However, upon leaving the Vice President's office, Lawal disclosed that he saw a team of journalists asking him why he was suspended. He added that he suspected foul play as the news hounds asked sundry questions about the conversation he just had with Osinbajo.
The former SGF said he was shocked to have heard the press asking questions about his suspension considering that he only heard about it from the Vice President minutes before he walked into an assembly of journalists.
His words, "I went to the Villa, to his (vice-president) office and in his (Osinbajo) discussion he said 'SGF there is a problem' and I said 'What is the problem?' and he replied 'well, the President has said we should look at your case' and I said 'which case?' and he said 'your case with the Senate.' I said 'oh that's fine, he asked 'that's fine?'. He said 'what is it (allegation) about by the way?', and I said 'I don't know what it is, it is what I read in the papers but of course I have my own idea of what it is'.
"I gave him my idea of what it is. Later, he said 'though the President didn't say this, but you might need to step aside'. I said 'is that necessary?', and he said 'yes'. Then I said 'it is fine'. He asked 'why is it fine?', and I said 'because I had wanted to go abroad to do some medical check-up but the president wouldn't let me go.
"Then he told me there was a need to put one or two things in writing, and I said fine. Then I stood up and as I was leaving I said 'by the way, you know you might have to make some announcement on the matter' and he answered 'of course I know. Then I asked him, 'when would that be?', and he said 'maybe by Saturday.'
"I asked him because the President has a policy that if you are going to relieve someone of his position, you have to call him and tell him and give him two or three days. The President does not like the idea where you be watching TV and you saw that you have been removed. So that was why I asked him, and he said 'Saturday'.
"Then I said thank you and went out of his office. As I got out there, the whole world was there, the cameras, I was ambushed. So, they asked 'is it true that you have been suspended?' and I asked 'who told you that' because I didn't expect the question. That means I was the last person to know about the suspension," he added.