Ortom vs Buhari: FG Reached Out, Trying To Intimidate Channels TV – Sources Reveal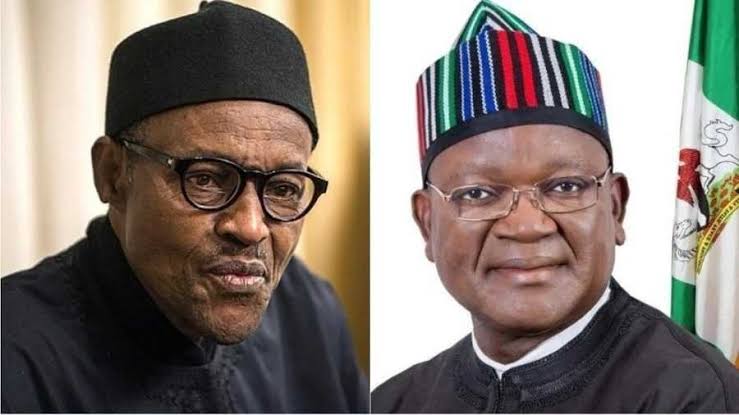 Sources have confirmed to Naija News that the Muhammadu Buhari-led federal government have reached out to Channels Television over a recent interview.
Naija News reports that the presidency is unhappy over a recent interview of Benue State governor, Samuel Ortom and Rtd. Naval Commodore, Kunle Olawunmi conducted at the TV station.
Recall that Ortom in the interview labelled Buhari as the worst President to ever rule Nigeria, adding that the President is grossly incapable of managing the affairs of the country.
He added that Buhari is trying to implement a secret Fulani agenda in Nigeria and cares more about cows than the people he is expected to lead.
On his part, Olawunmi had also revealed that the Buhari-led government was shielding sponsors of Boko Haram.
He said Boko Haram terrorists mentioned names of current governors, senators and Aso Rock officials as sponsors during interrogation by the military authorities.
According to him, the Department of State Services (DSS) has tremendous information on terrorists but they can't do anything except the body language of the President.
Reacting, the presidency described Ortom as a very unprincipled man who is only motivated by the lust for personal gains.
The Buhari camp said Ortom is attacking the President to save his failing political career and remain relevant.
Sources have now told Naija News that the National Broadcasting Commission (NBC) reached out to Channels TV asking the station to explain details of the interview.
Asked why the federal government did not reach out directly to Governor Ortom or Olawunmi, one of the sources said the NBC's plan was just to intimidate the television station.
However, the sources dismissed reports that Chamberlain Usoh, Co-Host on Sunrise Daily and his colleagues were invited by security agents.
Recall that a former Presidential candidate of the African Action Congress, Omoyele Sowore had accused President Buhari-led government of planning to sanction Channels Tv and arrest some journalists over their recent interview which did not sit well with the government.
Sowore, in a post on his Facebook account, noted that Buhari gave the directive after the interview s.
The human rights activist wrote, "Criminal Muhammadu Buhari reportedly orders NBC to go after Channels Television licence to be suspended by the Federal Govt of Nigeria over the interview of Gov. Ortom and Retired Naval Commodore Kunle Olawunmi."
"Reportedly Ordered for the arrest of Chamberlain Usoh, Co-Host on Sunrise Daily and his colleagues, anchors of the program at Channels."
"They are to be brought to Abuja tomorrow! Let's be vigilant and stand with these journalists. Muhammadu Buhari will be defeated and ultimately disgraced out of power."