'Buhari Govt Planning To Suspend Channels TV, Arrest Journalists' – Sowore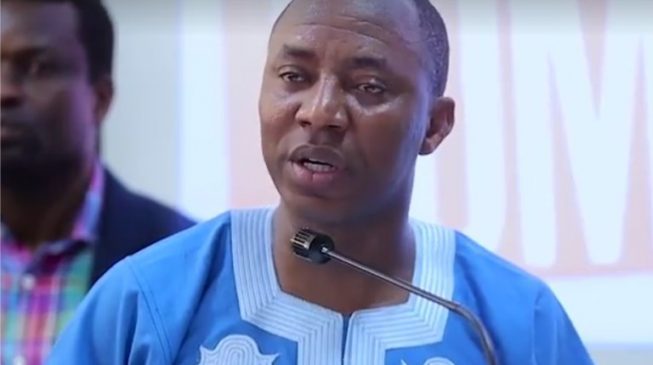 Former Presidential candidate of the African Action Congress, Omoyele Sowore has accused President Muhammadu Buhari-led government of planning to sanction Channels Tv and arrest some journalists over their recent interview which did not sit well with the government.
The publisher of SaharaReporters, in a post on his Facebook account, noted that President Buhari gave the directive following the interview of Benue State governor, Samuel Ortom and Rtd. Naval Commodore, Kunle Olawunmi.
The human rights activist wrote, "Criminal Muhammadu Buhari reportedly orders NBC to go after Channels Television licence to be suspended by the Federal Govt of Nigeria over the interview of Gov. Ortom and Retired Naval Commodore Kunle Olawunmi."
"Reportedly Ordered for the arrest of Chamberlain Usoh, Co-Host on Sunrise Daily and his colleagues, anchors of the program at Channels."
"They are to be brought to Abuja tomorrow! Let's be vigilant and stand with these journalists. Muhammadu Buhari will be defeated and ultimately disgraced out of power."
A source that spoke with SaharaReporters said, "Buhari attacks Section 39(1) of the constitution – the government plans to shut Channels TV and arrest pressmen. In a dangerous regression to Decree Number 4, the Buhari Government, using NBC, has ordered the closure of Channels TV and also ordered the arrest of the station's journalists for interviewing Governor Ortom who brought up the story of Buhari Fulanisation agenda, and a guest who revealed that people who are high up in the Buhari government are sponsors of Boko Haram."
"The government did not refute facts advanced by the guest, Commodore Kunle Olawunmi (retd.), that the government has the names of sponsors linked to the conviction of Boko Haram sponsors in the United Arab Emirates."
"Rather than provide a concrete refutation, the government is trying to gag the media by attacking the constitutional rights of the media and the journalist to practice their profession unfettered."
Another source said, "Channels TV license is to be suspended by the Federal Government over the interview of Governor Ortom and retired naval personnel. There is also an order for the arrest of journalist Chamberlain and his colleagues, who are anchors of the program."
"They are to be brought to Abuja tomorrow."