Borno Govt To Reintegrate 1,000 Repentant Boko Haram Terrorists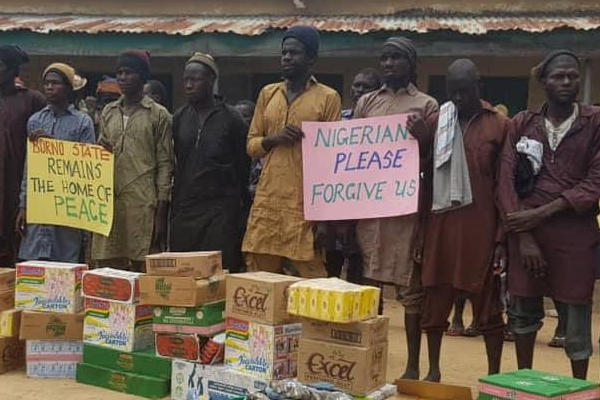 The Borno State Government has announced its plans to reintegrate over 1,000 repentant Boko Haram fighters into society.
Naija News had reported that no fewer than 1,000 Boko Haram and Islamic State West Africa Province members had laid down their arms and surrendered to Nigerian troops.
In a statement on Tuesday by its spokesperson, Onyema Nwachukwu, the Nigerian Army said the repentant terrorists will be processed and passed on to the relevant government agencies for further assessment in line with extant provisions.
Speaking with The PUNCH on Friday, Borno Commissioner for Information, Culture and Home Affairs, Babakura Jatau, said the state is ready to accept and reintegrate the repentant terrorists into society.
He noted that the repentant insurgents might be the beginning of the end to the insurgency in Borno and the country at large.
Jatau, however, advised the host communities to accept the ex-fighters as one of them, saying that the action can persuade the terrorists in the bush to surrender.
"At the end of every war, there is reconciliation. Every single war is not ended by the power of the bullet and bomb. They (insurgents) are part and parcel of us. They have surrendered; they are radicalised and they now realise their mistakes.
"Remember, we have been dealing with this problem for the past 13 years. For the past 13 years, the Federal Government has been battling with this insurgency without any peaceful resolution through firepower.
"They (ex-fighters) voluntarily surrendered their arms. There is nothing to do but to accept them and appeal to members of the public to accept them so that they (ex-terrorists) can reintegrate into society because there are many of them in the bush.
"For us, it means this is the end to the insurgency," Jatau said.