ILO Signs Implementation Agreement With Labour Unions In Nigeria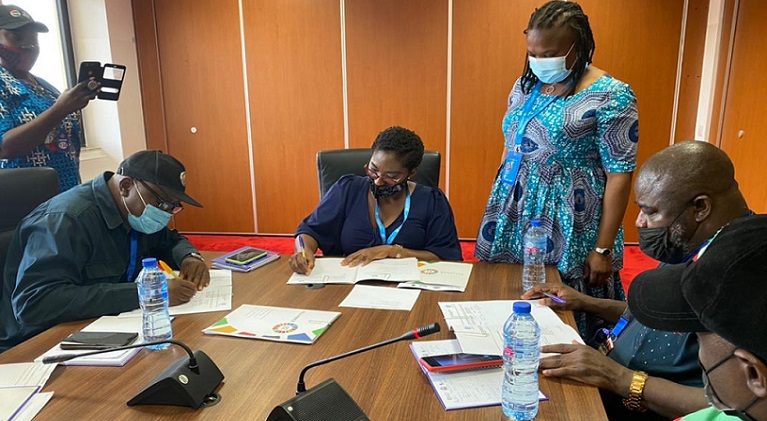 The International Labour Organization (ILO) Office in Nigeria has signed an Implementation Agreement (IA) with the Trade Union Congress of Nigeria (TUC) and the Nigeria Labour Congress (NLC) to further accelerate the elimination of child labour in the country.
The event, which took place at the Conference Room 'B 2' of the United Nations House in Abuja, Nigeria on Thursday, June 17 2021 formalizes concerted efforts aimed at strengthening workers' unions to improve fundamental principles and rights at work, create decent workspaces and eliminate child labour in supply chains especially in Nigeria's Artisanal Gold Mining (ASGM) and cocoa value chains.
The Implementation Agreement is in alignment with the work plan for the Dutch-funded ACCEL Africa Project in Nigeria which, among other interventions, seeks to enlighten and empower workers at the lowest levels in rural and informal economies to exercise their rights at work including through joining organized unions and associations.
The NLC and TUC, being a significant part of the ILO's tripartite partnership with workers' representatives, government, and employers, are expected to collaborate with their affiliate unions and associations to implement the project.
In addition, children within the legal working age shall also be protected in accordance with the Minimum Age Convention 138.
Speaking at the event, the Director of the ILO Office for Nigeria, Ghana, Liberia, and Sierra Leone, Vanessa Phala observed the commitment of both unions towards achieving SDG Target 8.7 by 2025 and noted the need for practical implementation of laws relating to decent work, social protection and child protection in order to achieve a country free of child labour.
While the Ag-General Secretary of the NLC, Chris Uyot emphasized the need for government to empower parents beyond the minimum wage in order to tackle poverty which has a major influence on child labour, the TUC representative and General Secretary of the union, Barrister Musa Lawal noted that the Implementation Agreement will ensure the creation of peace in workplaces and beyond.