2023: Why I Won't Support Jonathan If He Contest Under APC – Wike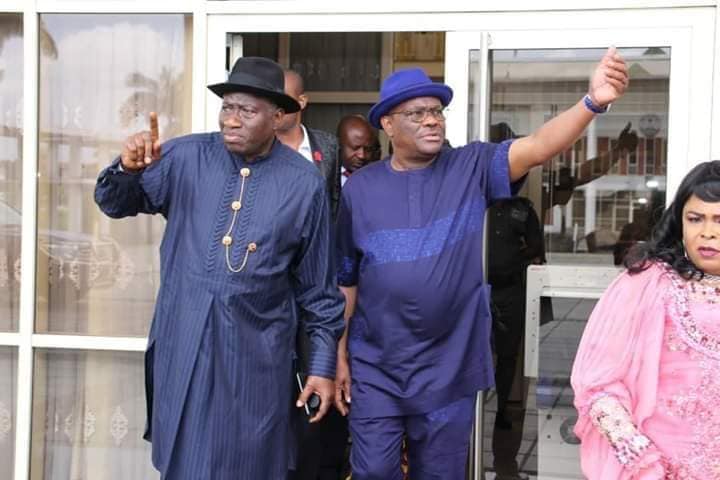 Rivers State Governor, Nyesom Wike, has disclosed the reason he will not support former President Goodluck Jonathan if decides to defect to the All Progressives Congress (APC).
Wike said he will not support Jonathan if decides to run for office in 2023 under the APC because he cannot engage in anti-party.
He made this known in an interview with BBC Pidgin on Friday. Wike noted that if Jonathan picks a ticket to run in the PDP, he will support him.
Wike said even Jonathan knew that he would work against him if he joined the APC and clinched the party's ticket to run for the Presidency in 2023.
He said: "I am a PDP member, if former President Goodluck Jonathan picks a ticket to run in my party, I will support him. I can't do anti-party. But if he picks a ticket to run in APC, I won't support him because I can't do anti-party.
"He knows I won't support him in APC even if he is from the south. I don't do that kind of politics. It is party we are talking about and I don't play ethnicity."
Meanwhile, the Governor of Kano State, Abdullahi Ganduje, has finally spoken on the trending video where he was allegedly seen stuffing dollars in his pocket.
Recall that Daily Nigerian in 2018 released a series of videos showing the governor allegedly collecting kickbacks from a contractor.
Ganduje finally on Friday evening in a BBC Hausa programme, A Fada A Cika, spoke on the allegation. The Kano State Governor had spoken on the issue after Kabiru Sa'idu Dakata, asked him what he is doing to end corruption.
While answering the question, Ganduje said the videos are fake and that an underground investigation is ongoing on the matter.
"We will deal with those behind the fake videos aimed at tarnishing my image. No doubt the video is fake and we are on an underground plans and investigation which we will not reveal. But I assure you the video is fake and those behind it will be put to shame," he said.
He added that those behind the video wanted to block his reelection bid but they failed and will be dealt.
"It is a lie and nothing of that nature ever happened. It was just a set up plan to stop me from contesting election and I have contested, they wanted to stop me from winning election and I have won. But that is not the big issue, the big one is we will deal with them."
"Even your picture can be tempered with to show you doing something with your hand or head and you know it's possible. People always tend to believe falsehood," the governor added.