Trouble For Wike As Nnamdi Kanu's Lawyer Issues Legal Notice Over IPOB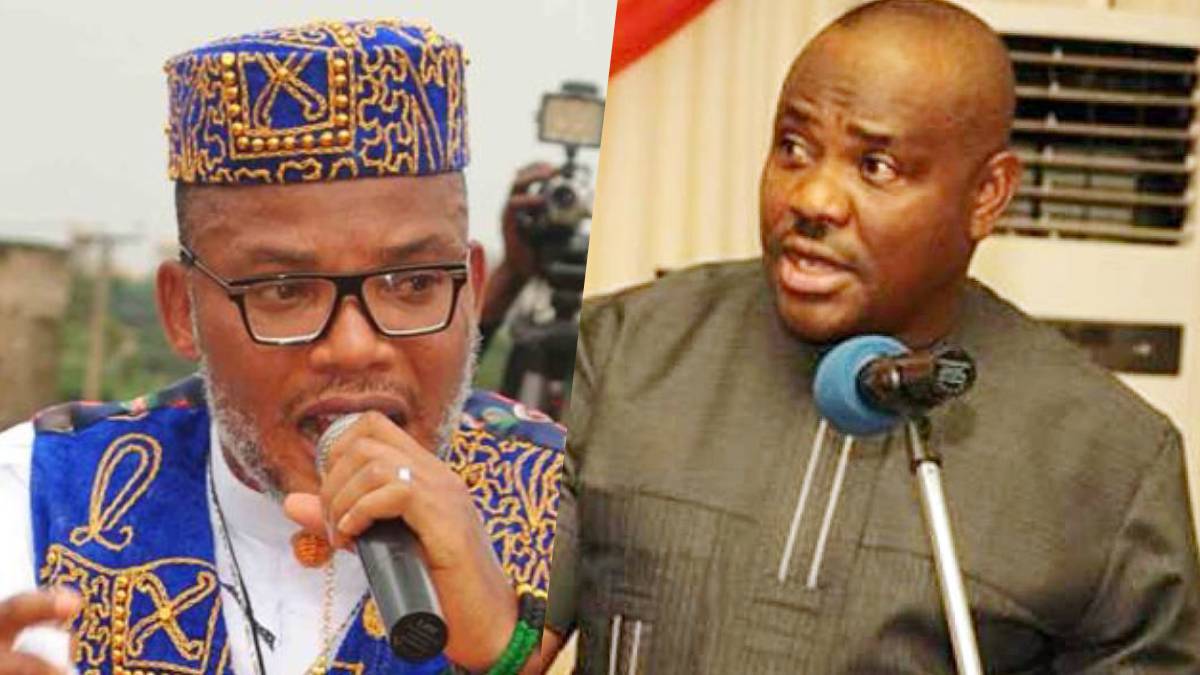 A counsel to Nnamdi Kanu, the leader of the outlawed Indigenous People of Biafra (IPOB), Barrister Aloy Ejimakor, has issued a legal notice in reaction to Governor Nyesom Wike's order on IPOB.
Naija News reports Governor Wike of Rivers State had directed security operatives to arrest anyone connected with the Federal Government proscribed Indigenous People Of Biafra (IPOB) in the south-south state.
Wike's directive came after a clash between suspected IPOB members and security agents on Wednesday left two police officers killed. This was even as they reportedly razed the Police Area Command, Obigbo, Afam Divisional Police Office, and a court, all in Oyigbo Local Government Area (LGA) of Rivers.
Reacting to the development on Friday night in a statewide broadcast, Governor Wike placed N50 million bounty for the arrest of one Stanley Mgbere who allegedly led IPOB members to carry out the fatal attacks in Oyigbo.
The Rivers State governor said the proscribed group has continued to expand membership drive, holding meetings regularly, and expanding its logistical base.
He said: "Security agencies are directed to stop any form of procession or agitation by IPOB in Rivers or any part thereof and arrest and prosecute any person or group that identifies with IPOB in the State. Government will issue executive order to strengthen effective enforcement of these measures.
"Today (Friday), IPOB continued with its devilish and destructive activities at Rumukwurushi, Iriebe and Oyigbo in open defiance of the State Government's curfew on human movements.
"Security intelligence and surveillance reveal that IPOB has continued to expand membership drive, holding meetings regularly, and expanding its logistical base, including maintenance of illegal detention cells in Emenike and other parts of Diobu, Port Harcourt.
"Oyigbo town has practically become the group's main operational base in Rivers, from which they've become notorious for launching premeditated violence and terror on the State, businesses and innocent citizens.
"As a people, we have become very much unsettled by the terrorist acts and endured the continuing irritations, violence, destruction and provocations of IPOB in and against the people of Rivers State."
Reacting to the governor's statement in a tweet on the micro-blogging site, Twitter, Kanu's lawyer wrote: "LEGAL NOTICE Writing hand Dear @GovWike, you're wrong. #IPOB is NOT responsible for ANYTHING that happened in Rivers during the #EndSARS protests. It's ANGRY #NigerianYouths that are responsible but NOT for the VIOLENCE which was triggered by the Army/Police as we saw in #Lekki. Thank you!
LEGAL NOTICE✍️
Dear @GovWike, you're wrong. #IPOB is NOT responsible for ANYTHING that happened in Rivers during the #EndSARS protests. It's ANGRY #NigerianYouths that are responsible but NOT for the VIOLENCE which was triggered by the Army/Police as we saw in #Lekki. Thank you!

— aloy ejimakor (@AloyEjimakor) October 24, 2020