Edo 2020: Obaseki, Ize-Iyamu Signs Peace Accord Agreement (Pictures)
The governorship candidate of the Peoples Democratic Party in Edo State, Godwin Obaseki, has signed the peace accord agreement with other candidates of other parties
Naija news learnt that Pastor Osagie Ize-Iyamu of the All progressive party also signed the peace accord.
The ceremony, which was held in Benin City, the Edo State capital, was organised by the Independent National Electoral Commission (INEC) in conjunction with the Abdulsalami-led National Peace Committee.
Speaking at the event, INEC Chairman, Prof. Mahmood Yakubu, underscored the negative effects of violence on the electoral process.
Bishop Kukah also spoke on the importance of shunning violence.He compared the signing of the Peace Accord to the exchange of vows.
Earlier this month, Oba of Benin, Oba Ewuare II, held a peace meeting with the leading candidates, Godwin Obaseki of the People's Democratic Party (PDP) and Pastor Osagie Ize-Iyamu of the All Progressives Congress (APC).
He admonished the political actors to avoid heating up the polity, adding that they must put the interest of the state first.
While appealing to the political actors to sheathe their swords, the king asked them to avoid violence.
He thereafter demanded an assurance from the politicians that there will be peace before, during and after the elections.
Peace Accord Signing Ceremony: Candidate of the PDP and Governor of Edo State, Godwin Obaseki and Candidate of the APC, Pastor Ize Iyamu hug each other as Gen. Abdulsalami Abubakar (2nd Left) and Bishop Mattew Kukah (L)applaud them.#EdoDecides2020 pic.twitter.com/DoyAEFTqS4

— INEC Nigeria (@inecnigeria) September 15, 2020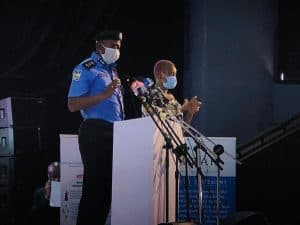 tree
The governorship election in the state is scheduled to hold on September 19, 2020.