Biafra: Nnamdi Kanu Explodes Over Death Of IPOB Members In Enugu, Orders Revenge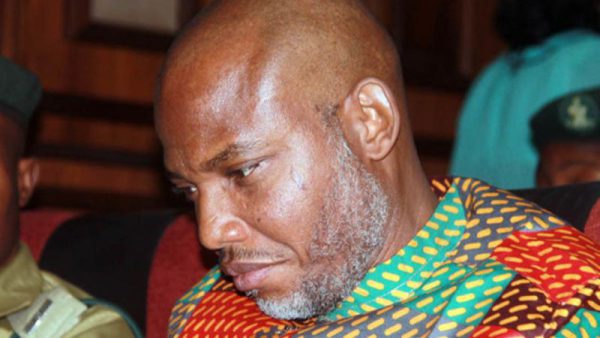 The leader of the proscribed Indigenous People of Biafra (IPOB), Nnamdi Kanu, has expressed sadness over the killings of IPOB members in Emene, Enugu State, southeast Nigeria.
Naija News understands that officials of the Department of State Services (DSS) clashed with members of the pro-Biafra group in Emene community primary school, Enugu state on Sunday. The clash in its wake left 21 IPOB members dead as well as two DSS operatives.
Reacting to the attack during a live broadcast on Radio Biafra, Kanu suspended all IPOB meetings in Enugu. He added that, henceforth, IPOB ceases to tolerate further killings of Biafran citizens across the length and breadth of Biafraland (Southeast and some parts of south-south).
The apparently furious IPOB leader added that "anywhere the Fulani Islamic army and police get involved in the killing of unarmed innocent Biafrans, they would retaliatorily be killed equally, in their numbers.
His words: "This evening, Sunday 23rd August 2020, I am giving the order that wherever a Biafran is killed, I want 100 police and army officers that perpetrated the crime, to be killed. We are no longer going to allow that impunity to continue.
"They are going to bury their own soon and that is if they will find their dead bodies. I will make sure that they will never find them. You see these Fulani idiots in our land, in eight weeks, we are not going to give them a dime.
"They think that we are going to keep quiet because we value life. "I am suspending all IPOB family meetings in Enugu and we are going to deal with these people. We own our land, you people (Fulanis) are visitors including the idiot who calls himself, a police commissioner. "You came to our land to kill our people.
"The day we will come out armed, you will be crawling on the ground. Anywhere the police or the army kills a Biafran henceforth, we will retaliate", Kanu vowed.