Nigerians Attack Agboola Ajayi For Dumping PDP 'For ZLP'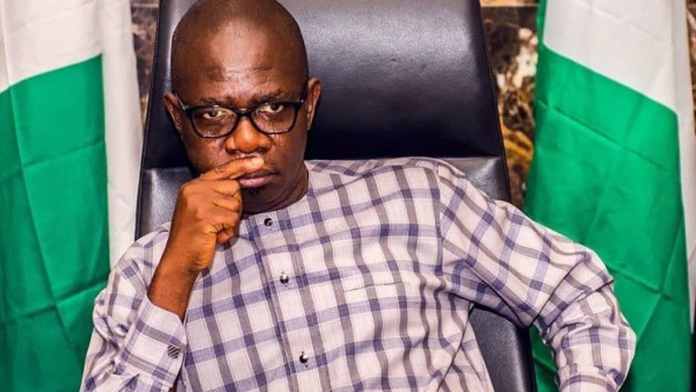 A storm of reactions by Nigerians has greeted the decision of Ondo State Deputy Governor Agboola Ajayi to dump the Peoples Democratic Party (PDP) and possibly move to Zenith Labour Party (ZLP).
Naija News had reported earlier that the Ondo Deputy Governor officially resigned his membership of the PDP just seven weeks after initially joining the main opposition party from the All Progressives Congress (APC), Nigeria's ruling party.
This online news platform understands that the defection of the Ondo Deputy Governor from the PDP was confirmed in a statement signed by his Special Assistant on Media, Allen Sowore. The statement said Ajayi's decision to dump the PDP was based on the need to respond to his people's call to contest the 2020 governorship election in Edo State.
Earlier, the PDP Chairman in Apoi Ward II of Ese-Odo Local Government Area in Ondo State, southwest Nigeria, Festus Oboro acknowledged receipt of Ajayi's resignation letter on the 9th of August, 2020.
In his letter, the Deputy Governor thanked the national leadership and members of the PDP for their warm reception and acceptance in the short period he rejoined the party.
However, apparently displeased with the decision of the former APC and PDP chieftain dump both parties ahead of the Ondo 2020 election in a very short period of time, Nigerians took to the micro-blogging site, Twitter to berate Agboola Ajayi with many saying he is a man who is after his ambition and not the welfare of the people of Ondo State.
Naija News captured some of the reactions below…
Ondo Deputy Governor, Cristiano Agboola Ajayi Ronaldo left Machester APC United for Real PDP Madrid and now he has Dumped the them to Joins Juventus ZLP Fc after 49 days all in the name of winning 2020 Ondo State Governor's Balloon D'or.

Well done, Agboola Ajayi Ajala.

— Ọládélé ?❤? (@TheOladeile) August 10, 2020
Apparently,Agboola Ajayi is the headache of APC and PDP in ondo state now. Such a beauty watching old men and women peeing in their pants over the legitimate right of an adult to associate with whatever political party he desires. There is God ooo ???

— Tomide (@MrTomide) August 10, 2020
MHA Tomide, you are being delusional to think Agboola Ajayi is the headache of APC and PDP in Ondo State!

It is understandable for you and your party – the ZLP – to be happy about his defection. A new political ATM has been discovered by your party. https://t.co/lweuBgt6Zd

— OMO IYA ALAMALA (@sama_on_point) August 10, 2020
Agboola Ajayi is highly experienced and want to make sure Ondo State get the best leadership.

PDP didnt give him a chance and those who desire to make a difference, must be different.

— Olofu (@sheiduhabib_) August 10, 2020
Breaking: Ondo Deputy Governor, Agboola Ajayi left APC for PDP and not he has Dumped PDP to Joins ZLP; all in the space of 2 months. ? Ajayi well done sir

— Lagos LandLord™ And 36 Tenants #BBNaija???? (@chiefagbabiaka) August 10, 2020
Ondo State Deputy Governor, Hon Agboola Ajayi has today, officially resigned his membership of the People's Democratic Party (PDP).

Recall that Ajayi decamped from APC to PDP on June 21,2020. He is set to join Zenith Labour Party to contest the governorship election. pic.twitter.com/vqTMyLIuqE

— Theresa Tekenah (@TheresaTekenah) August 10, 2020
Ondo ZLP Leaders Join APC

The State Deputy Chairman of ZLP, Organising Secretary, LG and Ward Excos have joined the APC, Declare Support for Governor Akeredolu.

The ZLP leaders said they left the because of Agboola Ajayi who is expected to join the party this week ?? pic.twitter.com/IKZDDzukUH

— Ondo First Born® (@OndoFirstBorn) August 10, 2020
Ondo State Deputy Governor, Agboola Ajayi has resigned as a member of the PDP claiming his decision to resign was as a result of the call on him by a majority of the good people of Ondo State to give hope to the hopeless, provide credible and purposeful leadership ??? https://t.co/7NNeldZpIY

— Daddy D.O?? (@DOlusegun) August 10, 2020
You all are busy slamming Agboola Ajayi for jumping from APC to PDP to ZLP, how come nobody is congratulating ZLP for producing a Deputy Governor?

— Eyen Akwa Ibom (@idyudofia10) August 10, 2020
Source: Naija News