BREAKING: Unknown To Magu, Buhari Ordered DSS To Investigate Him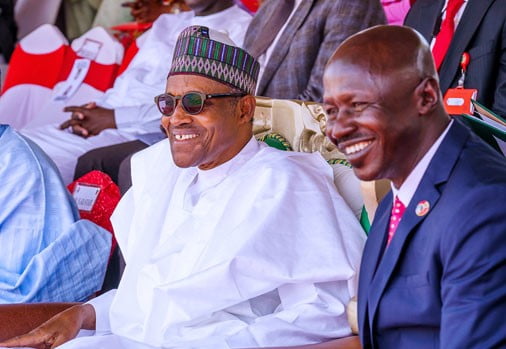 President Muhammadu Buhari had in 2018 ordered the Department of State Services (DSS) to investigate the suspended chairman of the Economic and Financial Crimes Commission (EFCC), Ibrahim Magu.
The DSS provided a comprehensive "damning" dossier on Magu, which shocked President Buhari.
The present senate-led by Ahmed Lawan had promised to give expedite action to nominees and letter from the president  but Buhari had refused to re-present Magu's name to the National Assembly.
A senior presidential source told The Cable that, "If Magu was a man who can read the signs, he should have asked himself why the president did not re-present his name to the Senate for confirmation as EFCC chairman since the new national assembly was inaugurated."
Magu, sensing that President Buhari may make a move against him, tried ingratiating himself to the president so as to return to Buhari's good books.
"He came to the mosque at the presidential villa to say Jumaat prayers along with the president on June 5, but the president was not very comfortable with it," the source stated further.
"President Buhari prefers to pray with his family and personal aides, so he was not happy when Magu wangled his way to the mosque after the partial lifting of lockdown.
"An instruction was then issued that he should not be allowed to come to the mosque."
While DSS identified several properties allegedly owned by the suspended EFCC acting chairman in Dubai, the Nigerian Financial Intelligence Unit (NFIU) provided intelligence on his alleged financial dealings.
Naija News recalls that the NFIU used to be under the EFCC but was removed and made an independent body in July 2018.