Fuel Tanker Explodes, Kills 7, Injures Over 40 While Scooping Fuel (Video)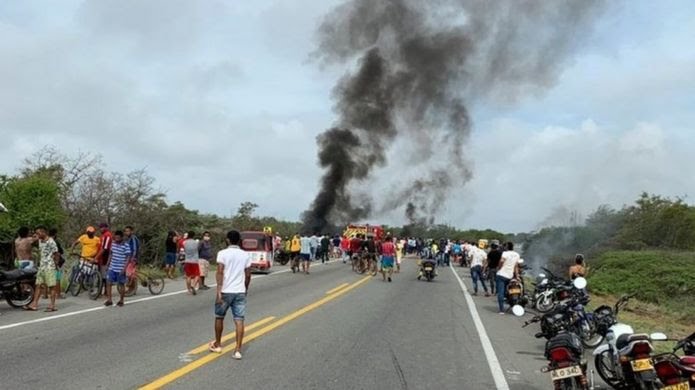 No fewer than seven people have been confirmed dead and over 40 injured after a fuel tanker exploded in Colombia.
Naija News reports that local authorities said on Monday that about 100 people had approached the site of the accident purportedly to take away the gasoline from the spill before the fuel tanker exploded into flames.
The fuel tanker explosion occurred on the road connecting the towns of Barranquilla and Cienaga, in north Magdalena department, near the town of Pueblo Viejo, whose mayor, Fabian Obispo, posted a video online that showed the magnitude of the blast.
Giving an update on the fuel tanker explosion, Major Obispo said: "Unfortunately a vehicle full of fuel exploded and killed about seven people."
"More than 50 people are injured. It is a tragic situation that the town of Pueblo Viejo is undergoing," Obispo said, adding the fatal victims have yet to be identified.
Meanwhile, the injured persons were taken to area hospitals by private cars and motorcycles on the scene.
Watch the explosion below…
This is what happens if you keep trying to scoop fuel from fallen fuel tankers.

This is so sad ?????! pic.twitter.com/OBlBd2aCJT

— Lord Scummander Rtd. (@zhurg_) July 7, 2020
Download NAIJA NEWS app: