FG Urged To Review NYSC Programme, Provide Start-Up Capitals To Corp Members
Jibrin who represents the Kiru/Bebeji Federal Constituency of Kano State on Tuesday, June 9 took to his verified account on the microblogging site, Twitter, to rolled out some measures that the government could adopt to better the lives of thousands of Nigerian graduates.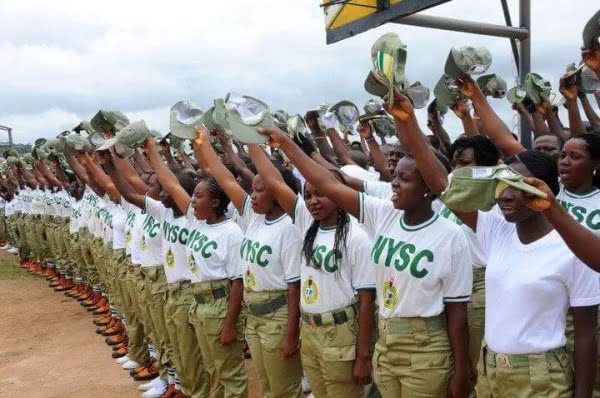 A former member of the Nigerian House of Representatives, Abdulmumin Jibrin, has suggested that the National Youth Service Corps scheme set up by the Nigerian government to involve Nigerian graduates in nation-building and the development of the country be reviewed in the interest of Nigerian Youths.
Jibrin who represented the Kiru/Bebeji Federal Constituency of Kano State on Tuesday, June 9 took to his verified account on the microblogging site, Twitter, to roll out some measures that the government could adopt to better the lives of thousands of Nigerian graduates.
According to the lawmaker, the stipends given to the youths on a monthly basis during their service year could be summed up and handed to them at once as a form of capital which will build thousands of entrepreneurs at the end of each service year.
Jibrin in a long thread of tweet stated that the Nigerian government can obtain a loan to fund the huge sum to be given to the youths as start-up capital.
He said, "As promised yesterday, here is the thread 1-24 sharing my idea on remodelling the NYSC to provide a one-off start-up capital for all corp members. I have tried to capture only the key components. You will not see every detail especially for those who are finicky about details."
"This idea is by no means exhaustive. Feel free to make suggestions, criticise and share opinion. Kindly ensure you read the whole thread before you do that, please. I have added some of my pictures during visits to support the NYSC while I was in the private sector."
"The idea is about using the huge resources we expend every year on the NYSC scheme to do what is more of a priority at the moment- fund startups for all corp members, build thousands of entrepreneurs while retaining and promoting the core objective of the NYSC."
"When you run the numbers adding up the monthly and camp allowances, you will be close to half a million naira. When you collapse the cost of camping and other associated expenditures and add to the allowances of corp members, you will be at half a million naira or above."
Speaking about the importance of his suggestions, Jibrin noted that a serious-minded corp member should become a millionaire in a few months after receiving the onetime payment.
He said, "I have no doubt in my rough estimate that each corp member can have a minimum of 500,000 naira to start up a business immediately after graduation. A hard-working, focused and discipline graduate can turn this 500k to millions or even more. There are certain issues that will arise. Some of which include- How can govt fund a 500k one-off since it is able to pay allowances of corps members monthly only largely because its revenue comes in instalment?,"
"How do you ensure the money is not misused or taken for granted? How do you deal with those who lack the interest and skills? How can this model sustain other objectives of the NYSC scheme?".
"Govt can provide guarantee and approach banks to provide the funds as loans while the banks receive monthly repayments over a period of not less than 12 months. Interest will be charged per month and deducted from the total amount accrued to each graduate. Banks will accept, there will be tight monitoring. There will be a data bank/website for every set of graduates with full identity and details of business uploaded. All final year graduates will be allocated a bank to open a special account for this purpose."
"All graduates MUST develop a business plan as part of graduation project which will be approved by the monitoring agency and the bank. The present NYSC will be restructured and trimmed to serve as preparatory and monitoring agency,"
"The progress made by businesses will be seen on the website and graduates who excel will be graded. Such grades can qualify you for more opportunities. Those who squander their money will be blacklisted. That can also affect your chances of opportunities. Every institution that produces graduates will have a practical entrepreneurship program for final year students. The program will be of uniform structure to prepare students on the rudiments of entrepreneurship and guide them towards developing an implementable business plan."
"The advantage of technology will be deployed to bring people from far and near together. Govt can also introduce mandatory modules for national unity, integration and development during students university years. The NYSC scheme was established to involve Nigerian graduates in nation-building, national unity, integration and development of the country among other objectives."
Jibrin stated further that, "The Approach to deal with issues of national integration can not be the same as 1974, 45years ago. In today's age, not only Nigeria, the entire world has become a global village largely due to technology. I do not need to live physically or meet physically with a person to understand him or his environment or work together or transact business or cooperate or appreciate our common ground or differences,"
The lawmaker stated that he is not in agreement with the saying that the NYSC programme has failed in Nigeria. According to him, the scheme has served its purpose but only need to be reviewed in the area of expenses.
He said, "However, I do not agree with the opinion that the NYSC is a failed program. The scheme has recorded a lot of milestones too numerous to mention. I only believe it has served its purpose and the need for better utilisation of the resources spent yearly on the scheme."
"What our graduates need are jobs. The public sector has reached a saturation point with little space for attractive employment. A lot of corp members are only used and dumped at the end of service year by many public offices. The private sector with its huge potentials is already feeling the heat. The most viable option is self-employment through entrepreneurship. Also, there is too much pressure on govt resources in between many priorities to embark on a separate job scheme for graduates."
"Working in the private sector, academia and public service over the years, I saw an obstacle to development in Nigeria. we are comfortable doing things the same way even in the face of negative results. Often, we lack the courage to try a different approach,"
Recalling his experience with the scheme during his service year, Jibrin said that the programme need remodelling.
"When I reflect on my service year experience, relationship with the NYSC and corps members years after serving, I am even more convinced that we need to remodel the scheme," he said.
"Before I won election to the house, I made support to the NYSC part of the corporate social responsibility of my company. Year in year out, I visit selected camps, donate utensils and equipment and instituted monetary awards for outstanding corp members."
"I also try to spend quality time interacting with corp members while giving them some motivational speeches. I did my NYSC orientation Dec 1999 in Kubwa, Abuja. The camp was also beneficiary of my gesture. I have managed to dig out some pictures during some of my visits-END."
Reacting to the lawmaker's submission, Victor Edoho-Ukwa, a Nigerian politician said, "like I tweeted yesterday, I am for Nigeria, anything that will jump-start this economy got me 100%. The only objection I have is this money being disbursed as a loan."
He added, On a normal day, this money ought to be their monthly stipends, it shouldn't be paid back."
Giving clarification on Victor's reaction, Jibrin again noted that it is the government that is responsible for obtaining the loan while the graduates only receive the money in bulk so as to enable them to embark on a project that could change their lives.
He said, "Great! It's not a loan to the graduates. It's their entitlements giving to them in bulk. It is the govt that will take loan to enable it give out the money to graduates one-off in bulk while repaying the banks monthly within a 12 months period equivalent to the service term."
Consenting to the lawmaker's statement again, Victor tweeted, "I am all in Honourable, how can we be of help to make this a law?".
In another news, the National Leader of the All Progressives Congress (APC), Asiwaju Bola Tinubu has reportedly taken some steps against the political moves by Rauf Aregbesola, Nigeria's interior minister and former governor of Osun State.