Oshiomhole Threatens Legal Action Against Zamfara State Government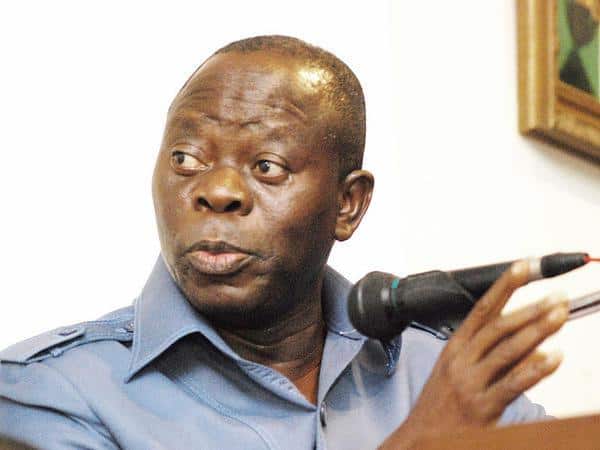 The National Chairman of the All Progressives Congress (APC), Comrade Adams Oshiomhole has threatened to take legal action against those intimidating and harassing the party's members in Zamfara State.
Naija News Understands that Oshiomhole gave the warning in Abuja at the stakeholders meeting with Zamfara APC members, who came to complain against the actions of the governor of the state, Alhaji Bello Matawalle.
"As you have seen today, you can be the ruling party, but tomorrow you may become an opposition party. The rule of engagement must allow everyone regardless of political party affiliation to express himself, associate freely, enjoy the freedom of speech and freedom of movement. For me, these are universal values that are shared by all democrats around the world," he said.
He also promises to stand by the party leadership in the states in spite of pressure and opposition
"We have all listened attentively to the statements made by the chairman of APC in Zamfara and former Governor Abdulaziz Yari. For me, it is reassuring when I see people stand on principle. We appreciate those six council chairmen, who have resisted the attempt to coerce them to leave APC to another party that they don't believe in and to remain on the platform of the party on which they were elected. So, l congratulate and appreciate you."
Earlier, the Zamfara APC State chairman, Hon. Lawal Liman, who presented the state of the party to the members of the National Working Committee (NWC)explained howthe PDP-led government makes use of police to disrupt their meetings.
Liman said: "After the May 24, 2019 Supreme Court verdict that stripped off the party of its gains in Zamfara State, the leadership of the party convened a stakeholders meeting under the chairmanship of Dr. Abdulaziz Yari, who admonished party faithful to accept the verdict as an act of Allah and go about our normal legitimate businesses, including moving the party forward within the provisions of the law.
"As part of efforts to keep the party alive in the state, its leadership initiated monthly meetings at local governments level, quarterly zonal meeting in all the three senatorial zones and periodic state stakeholders meeting when necessary bankrolled single handedly by the leader of the party in the State, Abdulaziz Yari. But in order to make such meetings impossible, the PDP-led government makes use the police to disrupt our meetings."
Source: Naija News