Five Ritualists Arrested In Jalingo While Trying To Kill 10 Year-Old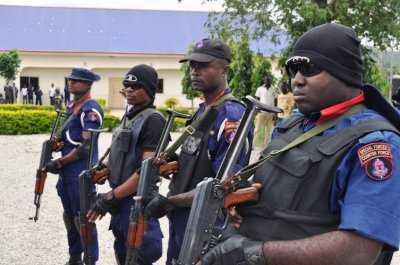 In a statement by the spokesman of the Taraba State NSCDC command, Mr Godwin Peter, he confirmed that the operative has on Tuesday paraded five suspected ritualist in Jalingo, Taraba state capital while attempting to kill a 10-year-old boy in the bush.
Naija News understands that a hint from villagers in Kona, a community in Jalingo, led a team of the Nigerian Security and Civil Defence Corps (NSDC) to make the arrest of the suspected youngmen.
Mr Godwin while speaking with journalists at the office of the command disclosed that the said the men of the NSCDC upon the hint acted fast before the suspects carry out the evil attempt.
He noted that the ritualist had entered the community, convinced a 10-year-old boy that they needed him to go and cut the nails of their boos a few meters away.
"when the boy followed them outside his house, the villagers who suspected the actions of the five young men followed them behind only to discover that their aim was to kill the boy for their ritual purpose." He said
"When we got the security information that some young men suspected to have been carrying out ritual activities in Kona village were caught with a ten years old boy, our men moves swiftly to the village and arrested the situation"
"We went there and the villagers insisted that the five boys have been carrying out ritual killings and were dealing with human parts, the villagers urged the security to scrutinize the five boys" Peter stated.
He further revealed that the ritualist has stabbed the 10-year-old boy with a machete at his back.
"The boy has been rushed to the Federal Medical Center FMC Jalingo, they have already confessed to the crime and they will be prosecuted according to the laws of the land" he said.
Naija News recalled that Two fake Nigerian Security and Civil Defense Corps have been caught with ballot boxes in Ayingba Dekina Local Government Area on Saturday.
The Deputy Director, Public Communications of the Kogi State Peoples Democratic Party Campaign Council, Usman Austin raised the alarm and stated that the suspects have been handed over to the police.
Source: Naija News