Nigerians React As Appeal Court Sacks Dino Melaye As Senator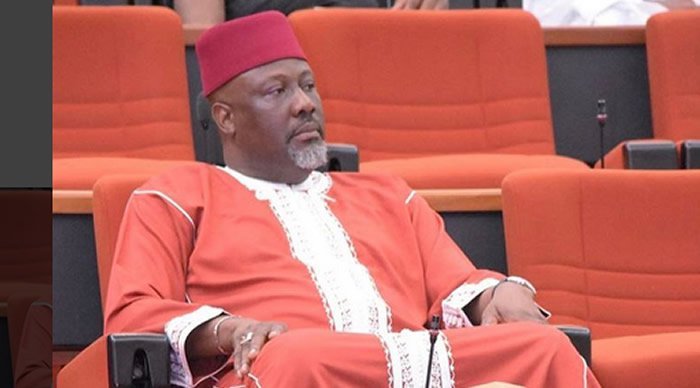 Melaye Loses At Appeal Court
The Appeal Court on Friday, 11th October, 2019 aligned with the decision of the tribunal which sacked Dino Melaye as the Senator representing Kogi West Senatorial district.
Melaye, who contested the election on the platform of the Peoples Democratic Party (PDP) scored 85,395 votes to defeat Smart Adeyemi of the All Progressives Congress (APC), who polled 66,901 votes.
It will be recalled that the Kogi State National Assembly/State Assembly election petition tribunal sitting in Abuja, Nigeria's capital, nullified Senator Melaye's election in August after it was approached by Smart Adeyemi.
However, Senator Melaye not satisfied with the outcome, headed for the appeal court.
As earlier reported by Naija News, the Appeal Court in its ruling on Friday, however, maintained the judgment of the tribunal and ordered a fresh election within 90 days in the Kogi West Senatorial district.
Reacting to the Appeal Court ruling, Senator Melaye said on Twitter: "I just lost my election at the Appeal Court and Fresh election ordered. In all things I give God the Praise. He who started a good thing will definitely complete it.
"I ask my supporters to be law-abiding as we shall always overcome. To God be the Glory."
Nigerians have also taken to Twitter to react to the new development.
Sad news: Sai Baba Senator Dino Melaye lost at the Court of Appeal. The Court affirmed the decision of lower Tribunal. Senator Dino Melaye is leaving Abuja Central Mosque cancelling his presence at the Presidential wedding . Gov Bello said "ajekun Iya loje" pic.twitter.com/9nzuHy2ZsA

— Woye (@woye1) October 11, 2019
Senator Dino Melaye

"He who fights Yahaya Bello fights God"
– 2016.

I didn't say it o. He said it himself. ? pic.twitter.com/Br0oEjpIVc

— WATCHDOG (@apc_watchdog) October 11, 2019
They've stolen Dino Melaye's car from where he parked it outside.

Wahala don sele!

I de come… ???#BUSA19

— Uncle Demola (@OmoGbajaBiamila) October 10, 2019
LMFAOOOOooo… Abba Kyari don bounce Dino Melaye. ???#BUSA19

— Uncle Demola (@OmoGbajaBiamila) October 10, 2019
The election was a struggle. @dino_melaye fought very hard & won against all forms of machinations. Justice has eluded the land & the judiciary has fallen. They brought scorpions infested woods into the land. They're stinging everything but not for too long. #NoTensionDino

— Sir.Ariyo-Dare Atoye (@AriyoAristotle) October 11, 2019
Now that's a classy response to bad news. If nothing I am proud of you for this one tweet bro. You keep it real. Sometimes it's just hard for some of us to see it for all the unncessary noise. Well done and I wish you good luck on the next go round Senator

— Ope Banwo (@opebanwo) October 11, 2019
Brave Dino @dino_melaye. All that is left to the almighty will end well by His grace.☺️

— Fodio Longman (@fodiolongman) October 11, 2019
Now that's a classy response to bad news. If nothing I am proud of you for this one tweet bro. You keep it real. Sometimes it's just hard for some of us to see it for all the unncessary noise. Well done and I wish you good luck on the next go round Senator

— Ope Banwo (@opebanwo) October 11, 2019