COZA: Protester Makes Fresh Confession Against Pastor Biodun Fatoyinbo (Video)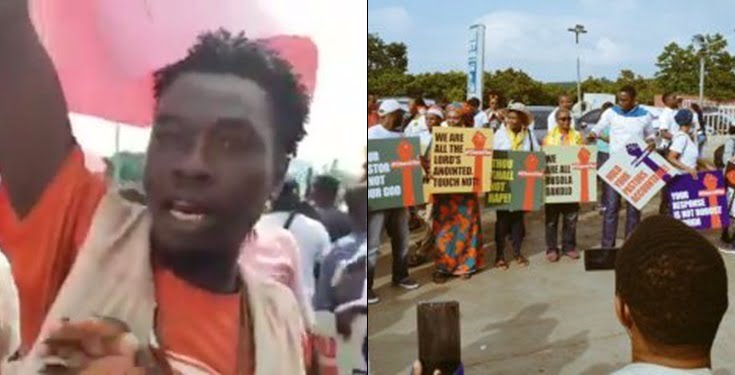 A protester who was alleged to be in support of Pastor Biodun Fatoyinbo, senior pastor of the Commonwealth Of Zion Church (COZA), on Sunday made a revelation that he was paid to support the Pastor.
Naija News understands that the supporter who was interrogated by a group of people, confessed that he was paid by a member of the COZA Christian centre to throw his support behind the embattled Pastor.
The Protester said he was paid a sum of ten thousand naira (#10,000) for the purpose of him carrying placards in support of the Pastor who is being accused of molesting some members of the church, an allegation he had debunked on several occasions.
While the protester was unable to reveal the name of the person who gave him the money, the protester whose name was not revealed but suspected to be in his early 30s, revealed that same amount was given to others to support the pastor.
Although Naija News is yet to confirm the latest report against the Pastor, the 'social media trial' started against the Pastor when Busola Dakolo, wife to the popular Soul mate singer, Timi Dakolo shocked the whole world when she revealed that the Pastor has once molested her while she was a teen, an allegation among others.
Although other reports have also emerged to support Busola Dakolo's claim, however, the wife to the Pastor Omodele Fatoyinbo has claimed that her husband is not capable of molesting anybody.
Watch the revealing video below;
Source: Naija News